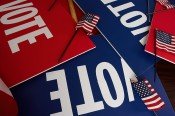 If you're like me, this election doesn't feel anything like 2008. The excitement and hope of that historic election have been replaced by worry and disappointment. The 2008 campaigns at least occasionally addressed our country's serious problems.
This year it's all noise, attack and accusations. Little actual policy makes it through. Meanwhile, billionaires, big oil and Wall Street corporations unleashed after the Supreme Court decision in Citizens United are able to spend unlimited amounts of money to flood the airwaves with anonymous attack ads.
 
It's a tough election season, and many Americans say they'll be voting with their feet by staying home.
 
But not voting is a huge mistake. Things could get much worse, and if enough of us stay home, they almost certainly will.
 
The Great Recession is creating hardship for families in every part of the country. More than six million Americans fell below the poverty line in the last two years, and nearly a quarter of all children under the age of six are living in poverty. Unemployed workers are typically going jobless for six months, nearly twice as long as they have during any time since World War II. Median household wealth fell by 20 percent since 2007, retirement savings have evaporated, and now some are talking about dismantling Social Security.
 
This is not the year to stay home. Our families can't afford it.
 
Democracy is especially fragile during times of stress. It's a time when our commitment to build a more perfect union is tested.
 
Voting alone isn't enough, but it does make a difference. We may not be able to directly influence big corporations to create jobs at home (or at all), but we can elect leaders who will press for jobs in our communities. We may not be able to force employers to offer pension benefits, but we can elect leaders committed to protecting Social Security. And maybe we can't bring down the high cost of college tuition, but we can vote for members of Congress who will support Pell Grants and other means for young people to gain the skills they'll need to find work and build a strong country for the next generation.
 
Elections aren't everything. Frankly, Congress has fallen short many times, and it is bound to disappoint us again. If we want better policies, we have to do more than vote. We have to get organized, develop our own agenda and hold our elected officials at all levels of government accountable to us. We'll need to organize in our communities, work places, and political districts to counter the influence of big-money special interests and the media they control, and set a course that will protect and support strong families.
 
Voting isn't everything, but when combined with organizing outside the political process, it can be powerful.
 
If we work together, we'll be able to create green, family-wage jobs that stay in our communities. We'll protect social security and assure our veterans get the long-term help they need. We'll rebuild our failing schools, divert our young people away from the "cradle-to-prison" pipeline, combat discrimination against women, gays and lesbians, people of color, and ex-felons, and restore a sense of possibility for everyone's future.
 
Voting alone won't accomplish all of this - it's just the beginning. A democratic system isn't something delivered to us by politicians. It's ours to remake with each generation--as the saying goes, "Use it or lose it."
 
Don't be discouraged by the cynicism of television pundits, the negative advertising, and the bad economy. Vote for the country you hope for--and then go out and help build it.