Wednesday, October 20, 2010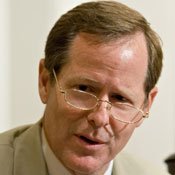 Jeff Weill is accustomed to disagreement. On the Jackson City Council, where he has represented Ward 1 since 2007, he is usually the first and sometimes only member to criticize city spending plans or support budget cuts. The council's lone Republican is now running for Hinds County Circuit Judge.
A Tylertown native, Weill has practiced in Mississippi circuit courts for 28 years. He served as a special prosecutor in Hinds County in the 1990s and as an assistant district attorney for Copiah, Lincoln, Walthall and Pike counties in the 1980s. In his private practice, he has represented both plaintiffs and defendants in civil cases. Weill trained as a mediator at Harvard Law School and has mediated more than 300 cases and arbitrated securities cases.
Why would you leave City Council?
I can do more as a circuit court judge than I can as a city councilman. As a councilman, (I'm) one of seven council members subject to a veto by the mayor. As a circuit judge I think I would be much better positioned to keep people safe. ...
My role on the council was to make sure ... that any money spent was transparent and clearly accounted for. As a circuit judge, my role would be to primarily make sure that the criminal docket moved along quickly and efficiently. On the council, I have far less power—as one member of a minority party on the council—than I would as a circuit court judge, where I'd have full power to move the docket along.
But what about the voice in the wilderness though? What's going to happen without you?
I don't know if I was so much a voice in the wilderness as someone who was just able to vigorously review the checks that were written and pointed out what I thought were examples of egregious misspending of city money. I'm sure someone will step forward. There's been a string of fine city council members from northeast Jackson—Dan England, then Ben Allen. I've talked to a number of folks who are interested in the position, and many of them would fill the same role that I filled on the council.
Would you continue on the council if you lost?
Absolutely. If the voters decide that I need to stay on the city council, then I'll do so, and I'll do so with as much vigor and cheer and energy as I have the last several years.
With cheer?
Cheer is important. I think optimism is important in elected officials, especially in the city of Jackson, where we have so many problems. We need someone that's optimistic about the city's future, and I am, or I wouldn't continue to serve in city government and seek this role as a circuit judge in the city of Jackson.
What are the differences between your work as a mediator and that of a judge?
In federal courts, judges actively get involved in trying to get civil cases settled. There's not so much a push in circuit courts to do that, and I'd like to see that happen. Given my mediation experience, I think I can help get civil litigants to the table to get their cases settled more rapidly. The more I could do that, the more I could open up the court's time for criminal cases, which is where I see the real bottleneck. Rather than having a two-week civil jury trial, if I can help those litigants get that case mediated and settled, we can open up that much time to take care of the criminal docket.
What else would you do to help improve the functioning of circuit court?
Right now it takes well over a year for a criminal case to make it through the circuit court system. I believe they can be sped up through the system with a judge who refuses to allow those continuances and repeated delays and can get the job done, not only in setting cases for trial but in actually getting them tried. When I was a prosecutor, we could try a murder case in a couple of days. I know in Hinds County, it often takes a week or more. And I believe it's just a question of making the parties, making the attorneys get the job done and not continue to let the cases languish.
What about the potential argument that you haven't had sufficient experience as a judge? How would you respond to that?
Let me answer this way: Judges manage conflict. And I've been trained, and I've got a lot of experience in managing conflict. I've got my mediation training at Harvard Law School. I've mediated more than 300 cases. I've arbitrated a great number of cases. I'm a securities arbitrator. I know how to manage conflict. And, importantly, I'm the father of three sons.
Some old racially-charged writings in the Jackson Advocate by one of your opponents (Ali ShamsidDeen) have cropped up recently. What do you think of them?
It's disturbing, but I'd really better not comment further than that.
What makes you best qualified for this position?
I've got 28 years of practice in the circuit courts of Mississippi. I've got more than a decade of experience in managing conflicts, and my opponents don't have near that experience. Importantly, I've got a good bit of experience with the criminal justice system. ... And I've been in conflict on the city council. When people ask me how I'll get along with all the circuit court judges, I ask them, "Do you know where I've been for the last three years?" I've occupied that narrow slice of real estate between Kenneth Stokes, Frank Melton and Harvey Johnson. I think I can get along well with folks, and I believe I can help fix Jackson's criminal-justice system.
Previous Comments
ID

160585

Comment

Several years ago I had a meeting with Councilman Weil, along with a current JFP staffer and a representative of the Mississippi ACLU to discuss ways in which more time could be allotted for citizen comments during city council meetings. At the end of the meeting Councilman Weil expressed the same "voice in the wilderness" lament regarding the illegal acts of the Melton administration that he reiterates in the above interview. I reminded Councilman Weil that he and his fellow council persons, either singularly or as a group, were the only people in the city with standing to force Mayor Melton to follow the law through a Writ of Mandamus. Any single council person could request such a writ, however Councilman Weil pled ignorance of the writ process and said even if it was available he would not be willing to go to that extent. He also said that he could not support allowing more time for citizen comments during Council meetings. He preferred a public hearing process although he couldn't see how even that could be accomplished given the randomness and the miscellaneous nature of citizen comments.

Author

FrankMickens

Date

2010-10-27T09:41:25-06:00