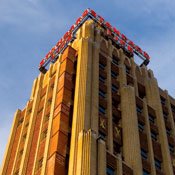 The Jackson City Council will vote during tomorrow's council meeting on whether to allow a $2.8 million tax increment financing agreement help finance the redevelopment of the King Edward Hotel and Standard Life building.
This vote will make the bonds the city committed for the projects in 2007 official. The TIF helped kick-off the redevelopment in 2008, and commits the city to an interlocal agreement with Hinds County. The resulting bond loan will help cover the costs of the construction of parking lots and infrastructure work, including gas and water lines, and street-lighting and sidewalk construction, among other things.
Developer David Watkins and HRI Properties of New Orleans requested the bond in the years leading up to the 2008 King Edward Hotel construction. The money is a small portion of the Standard Life's $35 million price tag and the $90 million King Edward Hotel renovation. In 2008, Watkins said that the city's $2.8 million decision was a municipal commitment that would reflect well for other lenders.
Tax Increment Financing uses expected tax gains to finance development. By borrowing against anticipated future property-tax revenues, the city relies on the new development to fund the bond, which the city sells to lenders on the bond market.
Hinds County supervisors agreed this morning at a board meeting to transfer 85 percent of those tax increases to the city's general fund, which will make bond payments to lenders.
City spokesman Chris Mims said Mayor Harvey Johnson Jr. committed to the redevelopment of both properties during his prior administration more than six years ago.
"Mayor Johnson, during his last administration, clearly recognized the importance of the King Edward Hotel and Standard Life Building and made efforts to work with the Jackson Redevelopment Authority to get ownership of both of those buildings for developments," Mims said.
The JRA spent much of the last decade trying to buy the dilapidated Kind Edward and dated Standard Life from multiple owners. After the final sale, it immediately requested proposals from interested developers. The JRA rejected proposals from Convention Center Hotel developers, TCI-MS, CW34 TV and Hot 97.7 WRBJ-FM owner The Roberts Companies. JRA officials said Watkins' joint King Edward and Standard Life development in step with the city's mixed-use plan for the property.
Mims said the city expected to issue the bonds in two different sections: a $1,760,000 series of bonds that will most likely be bought by a New Orleans bank, and a $1,040,000 series which he said an assortment of lenders would likely purchase.