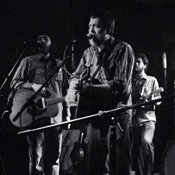 Friday night will be filled with dancing and good spirits at the second annual Fais Do-Do, Friday, Oct. 15. It is the next installment of the monthly Contra Dance at the Commons series.
Fais do-do is a Cajun-French phrase that has come to mean "public dance party." These dance parties have been around for decades. Literally translated, however, the term means "go to sleep quickly." In the early days, when people hosted house parties, they put the children and babies in a room off to the side. Young mothers used to say "fais do-do" in attempt to get the children to sleep so they could hurry back to the dance floor.
Lost Bayou Ramblers (who hail from Lafayette, La., and embrace the true Cajun-swing style while adding their own rock flare) and Horse Trailer will provide entertainment at the Jackson Cajun dance party.
"They bring a younger, more energetic approach to Cajun music seen through rock and roll or a punk band," says Horse Trailer's Jamie Weems about the Lost Bayou Ramblers.
Local band Horse Trailer is made up of Weems on the mandolin, Valley Gordon on upright bass and Dave Hutchison on the drums. Songwriters and vocalists include Tommy Bryan Ledford, Taylor Hildebrand and Johnny Bertram of Jackson's indie-rock scene.
Fais Do-Do, sponsored by the American Folklife Center and Jackson Arts Collective, is at the Eudora Welty Commons. Dance lessons with Catherine Bishop start at 7:30 p.m., and the party is at 8 p.m. Admission is $5. For more information, contact Jamie Weems at [e-mail missing].