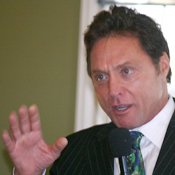 Downtown Jackson will come alive this month with the Mississippi Film Institute's Mississippi International Film Festival, local radio producer and Mississippi Film Institute founder Edward Saint Pe told a crowd at Koinonia Coffee House's Friday Forum.
"'International' is the key word," Saint Pe said. "We've intentionally tried to bring in films from all over the world, including Germany, a number of films from Spanish-speaking countries like Spain and Mexico, and others. We've got some Indian film content and participation from the Indian and Hispanic community, and something from the Jewish Film Festival."
The festival, which runs from Oct. 28 to Oct. 30, will premiere Mitesh Kumar Patel's movie "Man in the Maze," and more than 30 short films and presentations, as well as filmmaking and acting workshops. The Oct. 30 schedule, while including a wide array of short films from around the globe, will also feature musical entertainment including DJ C. Lecta World with a Jamaican Music Mix, Dr. Daniel and the Rockabilly Vampires, and the Mississippi Blues Allstars. Other bands include Latinismo, Storage 24, and the talented weirdness of Captain Clegg and the Night Creatures.
"The Blues Society is coming in, and we'll have some performances and a documentary called 'M for Mississippi,' which is an award-winning documentary made in Mississippi by Mississippians, and it sort of catalogues the great blues players from the Delta," Saint Pe said.
The event concludes with a costume ball and Halloween Horror Fest, but the end of the film festival is not the end of the global art film industry in Jackson, according to Saint Pe.
"We're going to use the festival as a means of kicking off an ongoing weekend cinema project at the Planetarium where we'll show art-house movies every week," he said. "We have a deal with a New York distributor, who will give us the films--some foreign language, some domestic and independent, the whole thing. These are the same people who supply much of the art-cinema content around the country."
St. Pe, a producer and actor who made local films such as "Orbis Romanus," said the state desperately needed an outlet for art films.
"We've never had that kind of theater here after all these years," he said. "In New Orleans we have one--New York, Dallas and others. That's what this can be."
Saint Pe established the Mississippi Film Institute as a means to promote the "the discovery and development of aspiring and independent film writers, producers, and directors" as well as supporting casts and crews by assembling them in an atmosphere that permits them to show off their talent.
Sen. John Horhn, D-Jackson, a film promoter responsible for numerous Hollywood films shot in Mississippi throughout the 1980s, serves on MFI's advisory board.
Visit www.missisisppifilmfest.com for more information on the festival and events.