Wednesday, October 13, 2010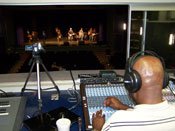 It's "MTV Unplugged" meets "Inside the Actor's Studio" for musicians, hosted by self-proclaimed Hispanic Redneck, Pete Castorena, and his right-hand man, Bill Kehoe. It's "The Castorena Show"!
To hear good Mississippi music live, go to the Alamo Theater on Farish Street at noon Saturdays, and be part of the studio audience of Castorena and Kehoe's brand new venture in local television, or tune your TV to WAPT from 12:30 p.m. to 1:30 p.m.
"The Alamo is the perfect place for the show. Nat King Cole, Cab Calloway performed there, you know?" Castorena says, talking about the legacy of talented musicians who've played there.
"We want to be part of the revitalization of Jackson by bringing in Mississippi musicians with original material," he says. Each show highlights two bands and a solo artist.
Mississippi musicians, e-mail [email protected] or call 601-951-3817. Tickets are free; first-come, first-served. More information at http://www.thecastorenashow.com.