Wednesday, October 13, 2010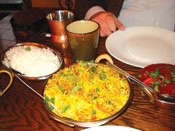 In the urban jungle of the Jackson metro area, we are fortunate to have a bounty of eateries at our disposal. Amidst the pack are the restaurants celebrating the cultural diversity of our city. Next time you're in the mood for something different, try one of old and new favorites we've discovered.
Some people may be intimidated by the mirrored windows, but don't judge this book by its cover. On the other side of the tint, Spice Avenue (4711 Interstate 55 N., 601-982-0890) features a welcoming setting, and they serve up all your Indian favorites. Originally a market and restaurant, Spice Avenue has ditched the market and narrowed its focus to provide a variety of the subcontinent's offerings. Served with a side of Indian music videos, Spice Avenue offers classic dishes like chicken tikka masala, kababs, kormas, vindaloos, and biryanis, a vegetarian section and a lunch buffet. Hours: 11:30 a.m. to 10 p.m. Monday through Saturday.
Taste of the Island (436 E. Capitol St., 601-360-5900) opened in 2009 and has quickly become a lunchtime fixture for downtown Jackson. Owned and operated by Richard and Chandra Higgins, Taste of the Island has brought a new dimension to Jackson. With only four tables, consider this restaurant a mostly carry-out eatery, but dining in is an option. Featuring a menu of Jamaican and Caribbean favorites such as Jerk Chicken, Oxtail, Red Snapper, Curry Goat and Meat Patties with sides of Bok Choy or Callaloo (Jamaican Spinach), Taste of the Island offers something a little different from the average lunch menu. Hours: 11 a.m. to 6 p.m. Monday through Friday.
If you're looking for a side of patriotism with your fish entrée, look no further than Bill's Greek Tavern (4760 McWillie Drive, 601-982-9295). A fixture of the Jackson restaurant scene for more than 30 years, Bill's Greek Tavern is a cozy and welcoming restaurant that specializes in an American take on Greek cuisine. Seafood is the star of the show at Bill's with a fish of the day or your choice of shrimp, scallops or oysters, all served with a salad, potatoes and vegetables. Bill's Greek Tavern also features classics like Greek gyros and plenty of baklava. Hours: 11 a.m. to 2 p.m. and 5 p.m. to 9 p.m. Monday through Saturday.
Once situated on Interstate 55, Ruchi India (862 Avery Blvd., Ridgeland, 601-991-3110), Jackson's longstanding outpost for Indian cuisine has moved to a new location in Ridgeland, but the menu at Ruchi India offers the same copious variety. With sections devoted to Southern India and beyond the Himilayas, Ruchi India sets itself apart from other Jackson restaurants. Of course, the familiar favorites are still there: Samosas, Tandoori Chicken, Rogan Josh, Biryanis Vindaloos and Naan. The new Ruchi India may be slightly smaller, but the interior is bright and welcoming, and the menu can satisfy all your Indian cuisine cravings. Hours: 11 a.m. to 2 p.m. Monday through Friday, 11:30 a.m. to 2:30 p.m. weekends,
5 p.m. to 10 p.m. every day.
Edo Japanese Restaurant (5834 Ridgewood Road., 601-899-8518), formerly known as Haru, has been in Jackson for about 10 years and is one of the hidden gems for sushi in the city. It has a quiet atmosphere, making it a perfect place for a good meal and good conversation. Edo recently expanded its menu with the addition of a hibachi grill. Try the salmon mango roll; it never lets my taste buds down. Hours: Monday through Thursday, 11 a.m. to
10 p.m.; Friday through Saturday, 11 a.m. to
10:30 p.m.; Sunday 4:30 p.m. to 9:30 p.m.
Fuego Mexican Cantina (318 S. State St., 601-592-1000), the newest addition to the Club Fire franchise, opened in July. Owner Sharon Jackson thinks the Mexican restaurant goes well with next-door neighbor Fire's bar atmosphere. Chimichangas and tamales are their most popular items, and although it's a Mexican restaurant, their burger is also a hot-selling menu item. Fuego offers $1 margaritas during happy hour from 4 p.m. to 7 p.m. Hours: 11 a.m. to 2 a.m. everyday.
King Torta and Omonia Deli and Bakery (1290 E. County Line Road, Ridgeland, 601-983-1253) is a Mexican/Columbian hybrid bakery and deli that serves breakfast, lunch and dinner. They've been cooking tacos, antojitos, burritos and quesadillas for almost a year. King Tortas' most popular menu item, like their name suggests, is their tortas, which come with lettuce, beans, tomatoes, avocados, jalapeños, chipotle and your choice of meat. Hours:
9 a.m. to 9 p.m. everyday.
Saigon (2640 Lakeland Drive, Flowood, 601-420-4848) is the only Vietnamese restaurant in the Jackson area. The restaurant opened in September 2003 in an old Wendy's, but owner Phong Dhan removed all signs of the former fast-food culture. Saigon is calm and fosters conversation. Dhan says their hot pots are their signature item, but their noodle soups are popular as well. I also recommend the tofu rice plate. Hours: Monday through Thursday, 10 a.m. to 9 p.m.; Friday through Saturday 9 a.m. to 10 p.m.; Sunday 11 a.m. to 9 p.m.
Wasabi Sushi and Bar (100 E. Capitol St., 601-948-8808) will be Jackson's latest sushi eatery when it opens in December. Tami Lynn Munsch, co-owner with Lina Lynn and Ronnie Isaac, thinks Wasabi will fill a niche for sushi and Asian cuisine in Jackson. Aside from sushi, Wasabi will offer bento boxes, rice and noodle dishes, an extensive appetizer menu and a martini bar. The mood of the restaurant will change throughout the day, as Munsch hopes to create a place for people to socialize after work and long into the night.
See and add more ethnic restaurants at http://www.jackpedia.com.