Tuesday, October 12, 2010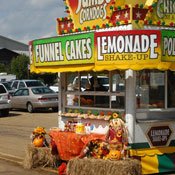 The Mississippi State Fair is attracting much larger crowds than it did last year, when rain kept attendance low. An estimated 307,052 people attended the fair through Monday, according to the state Fair Commission. Attendance through the weekend was almost 100,000 above last year's numbers.
Halfway through the 12-day event, the fair is on pace to exceed the roughly 500,000 total attendees last year and at least meet its attendance of 600,000 from 2009. The Jackson Convention and Visitors Bureau estimates the fair's economic impact at roughly $53 million, including fair revenue and spending on food and lodging associated with the event.
This year's inviting weather could have the added effect of hurting area restaurant sales. Grady Griffin, education director for the Mississippi Hospitality Association, told the Jackson Free Press last year that restaurant revenue drops as much as 20 to 30 percent during the fair.
Turning Dirt At Medical Mall
The Jackson Medical Mall Foundation breaks ground Oct. 14 on two new construction projects: an American Medical Response ambulance facility and a Save-A-Lot grocery store. The projects, financed by New Market Tax Credits, will bolster further development, Medical Mall Foundation Executive Director Primus Wheeler said.
"This new arrangement for AMR will secure a long-term anchor along the northern portion of the Medical Mall, spurring expansion of existing businesses and building a base for new businesses," Wheeler said in a statement.
The 25,000 square-foot AMR facility will include a drive-through restocking area and classrooms. Construction of the building will create 130 temporary jobs.
Construction began in July on another Medical Mall project, a $3 million housing development using federal stimulus funds. That project consists of 24 energy-efficient, single-family homes, located near Prosperity Street and Woodrow Wilson Avenue.
The groundbreaking ceremony starts at 10 a.m. at the Medical Mall's Thad Cochran Center. Call 601-982-8467 for more information.
Smoothie Shop Gets City Grant
City Council voted last week to award a $14,813 grant to Smoothie Q Factory on Highway 18. The shop's owners plan to use the grant to purchase smoothie makers and computers. The grant comes from the city's Small Business Development Grant Program, which uses federal funds to reimburse small businesses for equipment purchases up to $15,000.
Smoothie Q Factory, which opened in March, is located at 5225 Highway 18 West.
Creative Class Conference
United Way of the Capital Area's Young Leaders in Philanthropy hosts "Mobilizing the Creative Class for Action and Advocacy" conference for professionals 25 to 45 years old to develop new skills and concepts in their field. Held Nov. 4 and 5 and the King Edward Hotel, the conference is geared toward young professionals who are engaged in the community and organizations. Hundreds of professionals from the southeast region will attend. Brian Bordainick, entrepreneur and founder of the 9th Ward Field of Dreams, is the featured speaker. Other speakers include Jackson Free Press Publisher Todd Stauffer, Operation Shoestring Development Director Wade Overstreet, Community Foundation of Greater Jackson President and CEO Doug Boone, and Mississippi Main Street Executive Director Bob Wilson.
The conference costs $149 to attend, and participants can register online. Registration ends Oct. 15. For more information, call 601-918-5001.