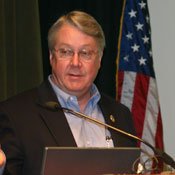 Two U.S. Supreme Court decisions are endangering Mississippi wetlands and raising the risk of serious floods, environmentalists said during the Clean Water Summit at the Mississippi Natural Science Museum this morning.
Jan Goldman-Carter, wetlands and water resources counsel with the National Wildlife Federation, and Scott Yaich, director of conservation programs for Ducks Unlimited, warned an audience of about 30 that the U.S. Supreme Court essentially destroyed the effectiveness of the 1972 Clean Water Act. She said the court's 2001 decision in Solid Waste Agency of Northern Cook County v. U.S. Army Corps of Engineers, and its 2006 decision in Rapanos v. United States, excludes water bodies from pollution and development protection, which ultimately reduced animal populations in affected biospheres.
Goldman-Carter pointed out that the court's decisions will result in the loss of more wetlands along the Mississippi River basin, likely causing more flooding in cities and towns along the basin, including portions of Mississippi.
Goldman-Carter said Mississippi's Hancock, Harrison and Jackson Counties have lost more than 33 percent of their wetlands since 1972, but increased developed land by 51 percent.
"Three counties in this area show up as among the highest federal flood insurance claims in the country," she said. "We can't prove a correlation, but we believe that as we look at similar trends up and down the Mississippi River basin we see a correlation."
"Wetlands store flood waters," Goldman-Carter continued. "When the rain comes down hard, wetlands store the water and filter it. But when you take the wetlands away, that waters goes immediately into the river and heads downstream."
Restoring half of the original wetlands to the Mississippi River watershed, she added, would have prevented the Great Flood of 1993, which devastated the upper Mississippi River and Missouri River basin, causing between $12 billion and $20 billion in damage.
Yaich reported that the state of Mississippi lost 59 percent of its original wetland area as of the mid-1980s, while the entire country lost 16.8 million acres of wetland since the mid-1950s, and lost more than 2 million acres since 1986.
Yaich said there is a correlation between the loss of wetland habitat and a drop in the waterfowl populations.
"We're not just talking about economic losses," said Yaich, who pointed out that duck hunters in Mississippi accounted for $1.4 million in annual state tax revenue and $17 million in total economic output. "We're talking about our own health, when it comes down to it. We need water."