Wednesday, October 6, 2010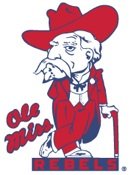 Polls opened at 8 a.m. this morning for University of Mississippi alumni, students, faculty and season ticket holders to vote on a new school mascot.
The university's student mascot selection committee released art renderings last night of three finalist concepts. The finalists include Rebel Black Bear, Rebel Land Shark and Hotty Toddy. 

Voting runs through Tuesday. The need to find a new mascot comes after the school removed former mascot Colonel Rebel from athletic events seven years ago. The school hasn't had a mascot since then. The search for a new mascot began this spring starting with 1,000 suggestions from the Ole Miss community and 33 focus groups.
See renderings of the mascot finalists here.
Previous Comments
ID

160207

Comment

Okay, I have to say it - I am not even an Ole Miss grad, but check it out. Mississippi State mascot is the Bulldog, Alcorn are the Braves, Jackson State Tigers, Southern Miss Hawks, Delta State Fighting Okra, Tougalo Bulldogs, Millsaps Majors, Belhaven Blazers, Mississippi College Choctaws. With that said I would go with the Bear and name the Bear "Hotty Toddy". Due to Mississippi's ties to the creation of the "Teddy Bear" - the bear would make the most sense, instead of three characters named "Hotty Toddy" Ole Miss is no where near any sharks, so the Landshark mascot does not make any kind of sense, albeit it looks cool - but just does not tie into anything dealing with that region of Mississippi. So if it's down to the bear, hotty toddy and a landshark? Then go with the bear, name it "hotty toddy" since they kick the games off with hotty toddy, no one else in the SEC has a bear as their mascot. The black bear has ties to the state and that region Hey Dr. Jones - this one's for free the next idea will cost you

Author

Duan C.

Date

2010-10-06T10:35:58-06:00
ID

160209

Comment

The bear,Hotty Totty and landshark have to be the stupidest ideas for mascots for Ole Miss. Col. Reb is the one and only mascot for Ole Miss.

Author

BubbaT

Date

2010-10-06T13:05:03-06:00
ID

160214

Comment

This has got to be one of the worst handled processes I've ever seen. I understand the need to change from the Rebels to another mascot. I'm not an Ole Miss alum or fan and I almost feel bad for them.

Author

KendallVarnell

Date

2010-10-06T15:13:30-06:00
ID

160247

Comment

Ole Miss's mascot search has been a complet cluster (insert your favorte word here). The whole search has made Mississippi in my eyes a complete joke. Who among us has not see the commerical and web site ad on that four letter sports network. I for one am ashamed to call myself a Mississippian because of how this looks to the rest of the country. No college or university that I know of has done more the last 10 to 15 years to destory its tradition than Ole Miss has. Thank goodness I never went there.

Author

Bryan Flynn

Date

2010-10-08T10:34:24-06:00
ID

160250

Comment

@ Leslie Walters - I apologize, I knew it was some kind of bird, I just couldn't remember exactly which one it was - but thanks for correcting me. But I see you agree with me on the Bear idea and I concur with the keg stand at halftime

Author

Duan C.

Date

2010-10-08T12:08:07-06:00