Wednesday, October 6, 2010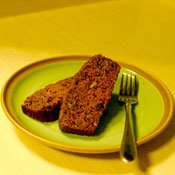 Zucchini is a versatile summer squash that comes in yellow and green varieties. You can roast zucchini with a little olive oil and salt, add it to salads, use it as a key ingredient in ratatouille and lots of other dishes. But my favorite use for this little green squash, especially at this time of year, is the ever-so-delicious zucchini bread.
Zucchini bread carries for me the sweet memory of every family vacation road trip we ever took when I was a kid. It throws me straight back into my 10-year-old self, to the middle bench seat of a periwinkle-blue minivan, fighting with my sister and flying down the interstate to my aunts' houses in New England. I would prop my feet up on the cooler that took up all the space between the seat and the sliding door—the cooler that held zucchini-filled magic.
My mother made zucchini bread for each trip. It was fairly easy, sweet enough to tempt the kids, and yet, hidden within its spicy, fruity tastiness were—gasp—vegetables.
She actually made four different batches of zucchini-bread muffins to suit each of our tastes: plain for my father; with nuts for my sister; with raisins for me; and with both nuts and raisins for herself. I can still see her in the kitchen, muffin wrappers all around, trying to keep straight which batch had which contents, and muttering slightly to herself.
Heaven help the Senff who ran out of muffins and started eyeing another's Ziploc bag of zucchini goodness. That was a transgression of the first order. Your name was emblazoned on your bag in bold permanent marker for a reason.
Mom's zucchini bread is the moistest I've ever had. I'm convinced that this is at least partly because she simmers her raisins before adding them to the batter so that they're all plump and juicy, soft in every bite.
Everyone always thinks their mom's recipe is the best. Fortunately, in this case, I'm right. My mom's recipe is perfect, so perfect I just had to tweak it a little.
This recipe uses applesauce instead of oil, which cuts down considerably on the fat and calorie content. Though I've never had a problem with this recipe turning out dry or glutinous, it can be a concern in baked goods where applesauce replaces oil. Consider adding a tablespoon of oil if you are truly worried about the outcome.
It's also a recipe I tweak slightly depending upon the season. In late summer or early fall, I make it with light brown sugar, use only cinnamon to spice it, and eat it with a cold glass of milk. When the leaves have turned, and the air begins to cool as the holidays approach, I use dark brown sugar, add ground cloves and nutmeg, and eat it still warm with a mug of hot apple cider, preferably snuggled under a blanket with a good book.
Zucchini Bread
2 cups flour
1/4 teaspoon baking powder
2 teaspoons baking soda
1 tablespoon cinnamon
1/4 teaspoon nutmeg (optional)
1/4 teaspoon cloves (optional)
1 teaspoon salt
3 eggs
1-3/4 cups brown sugar
1 tablespoon canola oil (optional)
2 teaspoons vanilla
1/4 teaspoon almond extract
1 cup cinnamon applesauce
2 cups shredded raw zucchini
1 cup raisins
1 cup chopped walnuts or pecans
In a small saucepan, simmer raisins with enough water to cover them for five minutes, or until they plump. Drain and set aside.
Beat eggs, sugar, oil, vanilla and almond extract together in mixing bowl until well blended. Add applesauce and shredded zucchini.
In a medium bowl, sift together flour, baking powder, baking soda, cinnamon, nutmeg, cloves and salt. Slowly incorporate into liquid mixture at medium speed, scraping the sides of the bowl as needed. Add nuts and raisins at low speed.
Divide batter in half to make two loaves in traditional bread pans, or try a bundt pan for zucchini bread with a bit more visual flair. Bake in a greased pan of choice at 325 degrees for 40 to 50 minutes. Zucchini bread is done when springy in the center and an inserted toothpick comes away clean.