Wednesday, October 6, 2010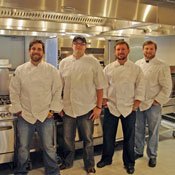 The first time I stepped into what would be Parlor Market, I had no problems imagining that when the construction crew finished carrying out owner and chef/owner Craig Noone's vision for the new downtown eatery, it would be nice. I was wrong. It's spectacular.
Opening night, Tuesday, Sept. 21, two friends and I headed downtown for our 7 p.m. reservation at Parlor Market.
It was a dining experience among dining experiences. Parlor Market is almost otherworldly in its cozy space on West Capitol Street. It's highbrow but not snobbish; comfortable but not too common; suave but not insincere.
The girls loved the drinks. "It was potent with fresh ingredients," one said about her $9 Front Porch (a sweet tea infused with Cathead Vodka made in-house) served in a Mason jar. The drink menu was creative and well researched.
Noone and the other guys in the kitchen plated the food masterfully. Here's the caveat: You pay for the beautiful plating. I'm not counting what's in your wallet, but unless Bravo could cast you in the first season of "The Real Housewives of Jackson," Parlor Market probably won't be your every-Thursday-night dinner spot. Maybe it shouldn't be.
Aside from the burger, entrées like, the cowboy ribeye and brown sugar and tea-brined chicken range in price from $24 to $39. If you add an appetizer from the cold-plate side of the menu, which I suggest you do—like the summer salad with greens, heirloom tomatoes, purple-hull peas, corn niblets, cornbread croutons and feta crumbles with a tomato vinaigrette—or from the small-plate menu to an entrée, you've already spent $50, not including the drink you must have.
Dessert is a must, too. Pastry chef Whitney Evans, keeps the menu fresh and fun. Some creations might make you pause, like the strawberry cake with strawberry black pepper reduction in the icing or the Walk Down Memory Lane—a cute little moon-pie served with a push pop and strawberry gusher's cupcake. Or consider the key lime white chocolate mousse or homemade ding-dongs.
Noone's restaurant has set a new standard for its competitors. If you want to treat yourself, stop in to see the Parlor Market Boys.