Monday, November 29, 2010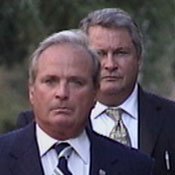 The USF&G Insurance Company, from which former attorney Paul Minor won a large settlement in 2001, wants former state Supreme Court Judge Oliver Diaz removed from Minor's civil defense team.
The insurance company sued Minor, Peoples Bank and former Chancery Court Judge Wes Teel after a federal jury convicted Minor and Teel for corruption and fraud for Minor's decision to pay one of Teel's campaign loans. The insurance company argues that the 2007 conviction uncovered evidence that the judge and the attorney were working together when Teel ruled favorably for Minor's client People's Bank. In 1996, the bank filed the suit claiming USF&G wrongfully denied coverage to the bank. The settlement required USF&G to pay $1.5 million.
USF&G attorney Stephen Montagnet argued before U.S. District Court Judge Henry Wingate this month that Diaz is a potential witness in their suit, and must be removed from Minor's defense team.
"Rule 3.7 of the Mississippi Rules of Professional Conduct, which is mandatory, says the lawyer shall not act as an advocate at a trial in which the lawyer is likely to be a necessary witness," Montagnet told Wingate, who did not issue a decision at the time of the Nov. 17 hearing.
Minor's attorney David McCarty argued against removing Diaz, saying case law does not permit legal parties to interrogate witnesses on legal issues that arose while they presided as judges.
"(Diaz) can never be a witness of any kind, either a necessary witness or a witness of circumstantial evidence because he was a member of the Mississippi Supreme Court. At the time USA&G disclosed him as a witness, he was still a presiding justice on the court," McCarty said, explaining that case law restricts courts from interrogating justices on what they were thinking, the sequence of events leading up to their decisions and their discussions with certain parties.
"They want to know what a member of the Mississippi Supreme Court thought about a case. That is simply information which is not available to any party in any case," McCarty said.
USF&G filed a motion last week arguing that the company is seeking "relevant matters of fact" such as "when, why and what (Diaz) discussed with Minor in connection with the ... Peoples Bank case."
A 5th U.S. Circuit Court of Appeals panel tossed Minor and Teel's bribery conviction this year, potentially reducing their sentence. Minor received an 11-year sentence, and Teel received six years. Wingate scheduled a resentencing hearing for Minor in January. Following the resentencing, Minor's attorneys intend to appeal the remaining racketeering conviction to the Supreme Court, which has already reversed similar racketeering convictions. The Supreme Court argued that federal prosecutors loosely applied their racketeering charges against former Alabama Gov. Don Siegelman and others. The court refused to address Minor's appeal this year, but will likely see the appeal on their docket again next year.