Wednesday, November 24, 2010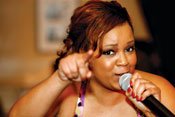 With the holidays coming at us like a freight train, I'm reflecting on all the things I'm thankful for in 2010.
Besides my awesome unit of family and friends, I'm thankful for the intriguing people I've met this year at different gigs in the state, on Facebook or hosting Singers/Songwriters Night at Hal and Mal's.
A year ago at Thanksgiving, Clinton Kirby and I had our first practice together as a duo. Since then I've had the chance to sing with him and Buffalo Nickel band-mate Steve Deaton, as well as perform with them at Ole Tavern two weeks ago. (It was epic. Thanks, guys!) I've taken poor Clinton on a begrudgingly long field trip of my old haunts and stomping grounds in southwest Mississippi to play at different venues, and he's never complained.
I'm so thankful I'm having the chance to sing with such a fabulous musician whose family has pretty much become my extended one.
Last but not least, I'm thankful for the opportunity to work for the Jackson Free Press and for the grand opportunity to represent the music scene here in the city I call home. Thank you, Jackson, for being patient with me as I'm still learning the ropes of being a music journalist, your understanding when I was booked up already at Singers/Songwriters Night, for letting me perform for you, and for trying to make our city's music scene a force to reckon with.
Wednesday night, Nov. 24, Mississippi's own Eddie Cotton performs at Underground 119, and The Quills and Josh Hailey's Tom Petty Tribute show takes over Hal & Mal's Red Room. For those of you who missed the show in September, it was electrifying and fun as all get out. Go.
On Turkey Day, I hope you enjoy the holidays with your family, but please make room for musical dessert when Jason Turner plays at Fenian's. And check out Jason's most recent CD, "11 Years." I've heard the demos, and that has blown me away.
Friday night, Nov. 26, one of my favorite bands and some of nicest guys you'll ever meet, Fearless Four, help you dance away the previous day's holiday feast at Underground 119. Akami & The Key of G hit up Freelon's; Martin's entertains the masses with Alvin Youngblood Hart's Muscle Theory; Hal & Mal's hosts the fun-loving garage rockers M.O.T.O., Los Buddies, and Fast Boyfriends; and Poets II has Chasing Scarlett playing all your favorites.
If you're out of town for the holidays, Memphis hosts Mississippi homemade musicians, the North Mississippi All-Stars, at Minglewood Hall (1555 Madison Ave., Memphis) Friday, too.
Continue catching up with family and friends Saturday night with Pat Brown & The Millenium at F. Jones Corner. Dent May performs at Sneaky Beans, Scott Albert Johnson blows it on the harmonica at Underground 119, and Zoogma takes the stage at Martin's. Check them out beforehand at http://www.zoogma.net.
And back up Memphis way, Steve Earle's son Justin Townes Earle plays Tuesday, Nov. 30 at the Hi-Tone Café (1913 Poplar Ave., Memphis).
Don't forget to help me help you by posting your gigs. Send info to [email protected]. Peace, love and all the above to you and your family this Thanksgiving.