Wednesday, November 24, 2010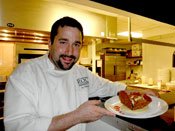 Before the 19th century and the mechanization of the sugar industry, desserts were consumed mainly by privileged aristocrats or as a rare holiday treat. Thank goodness for technology, or I think I would have to had led the revolt to fight for equal sweets consumption. Every culture has a dessert unique to its region that celebrates the culinary feats of its people. I set out to find such treats in our neck of the woods.
Crème Brûlée
Jay Parmegiani, the French chef with an Italian name and owner of Roca, a fine dining restaurant in Vicksburg, describes crème brûlée as the "quintessential" French dessert. "I like the classic way of making my brûlée," he says.
Parmegiani's brûlée is thick, rich custard below a sugary, caramelized candy-like shell.
Crème Brûlée
2 quarts heavy cream (40 percent)
2 ounces vanilla extract
13 egg yolks
3 whole eggs
15 ounces granulated sugar
Combine heavy cream and vanilla in a non-reactive saucepan. Bring to a scald. Remove from heat.
In a large mixing bowl whisk egg yolks, eggs and sugar until well blended. Continue to whisk while slowly pouring the hot cream mixture into the egg mixture and whisk until well blended.
Ladle six ounces of the custard mixture into individual ramekins, making sure to lightly skim the surface to remove any air bubbles or foam (the foam will burn when caramelizing the sugar). Bake in a 200-degree convection oven for 35 minutes. The custard should tremble slightly when shaken.
Remove from the oven and allow to cool for at least 30 minutes, then refrigerate.
Spread a thin layer of sugar over the custards—about one tablespoon. Using a hand-held blowtorch, to lightly caramelize the sugar. The color should be a light brown. If the sugar gets to dark it will be bitter impart a bitter taste to the finished dessert.
Allow to cool for at least one minute, then serve immediately.
Zwetschenkuchen (Plum Cake)
"Its tart sweetness and jewel tones remind me of my childhood," Debbie Gorney says of Zwetschenkuchen, a German plum cake. Gorney who was born in Idar-Oberstein, Germany, remembers German bakeries only selling Zwetschenkuchen during the fall. She and her husband, Jim, who taught German in the Vicksburg-Warren school system for 35 years, shared their recipe.
Zwetschenkuchen (Plum Cake)
Filling
2 pounds blue plums (halved, pitted and sliced)
3/4 cups sugar
1 teaspoon cinnamon
2 tablespoon flour
Pastry
2 cups all purpose flour
1 teaspoon baking powder
1 to 2 tablespoons liquid (rum, water, milk or cream)
1 medium egg (beaten)
1 teaspoon lemon zest (the outer yellow part of the lemon; avoid the white part, the pith, as it is very bitter.)
3 tablespoons sugar
1-1/2 sticks cold butter (cut into small cubes)
Pinch of salt
Combine flour, salt, baking powder and sugar. Chop butter into small pea-sized bits. Add the egg, liquid and lemon zest. Work with fingers until smooth like pie dough.
Press pastry over bottom and side of 9x10 form pan. Place sliced plums in concentric circles. Sprinkle a half-cup sugar over plums.
Combine remaining quarter-cup sugar with cinnamon and flour. Sprinkle over top. Bake in a 400-degree preheated oven for 30 to 40 minutes until pastry is flakey-crisp and golden, and plums are bubbling with syrup. Cool before serving.
Beignets
Chris Fink's accent is a dead give away. Born in New Orleans, Chris is the chef of what he calls, "a mom and pop restaurant." Chris and his wife, Sally Bullard, own and operate Main Street Market, in Vicksburg's historic downtown.
Chris offered his personal beignet recipe that he whips up for his kids. "I don't use a yeast dough," he says. "I use baking powder because it's pretty forgiving."
Beignets
2 cups flour
1 teaspoon salt
1 tablespoon baking powder
1teaspoon ground cinnamon (or less to taste)
1 medium egg
3 tablespoons sugar
1 cup milk, warmed
1/4 teaspoon vanilla
1 quart oil for deep frying
Powered sugar
Sift together the flour, salt, baking powder and cinnamon. Dissolve sugar in warm milk and let cool, then add the vanilla. Beat the egg in separate bowl and add to liquid mixture. Add the liquid mixture in small batches into the dry ingredients until it forms a dough.
Kneed out dough. It should feel wet and soft like canned biscuits. Roll out and let rest for 10 minutes. Then cut and drop in vegetable oil heated to 375 degree.
Remove from oil when golden brown (about 30 seconds to one minute—watch closely, they cook fast). Sprinkle with powdered sugar and eat while still warm.
Mochi
Adrienne Eckstein, whose last name is German, lived in Hawaii for five years. She learned in Hawaiian culture, rice needed to be sticky. "One of the best compliments you could receive is if you were asked to bring the rice to an event," she says. With a texture similar to gelatin, mochi, one of Eckstein's favorites.
Mochi
2 cups mochiko (rice) flour
1-1/2 cups sugar
2 cups liquid (passion, orange, strawberry or guava juice)
1/2 cup potato starch
Margarine
Mix ingredients in a mixing bowl using a whisk. Pour into a three-quart microwaveable dish greased with margarine. Cover with plastic wrap.
Microwave on high for 8-9 minutes. Let cool, then slice and roll in potato starch.