Monday, November 22, 2010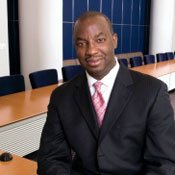 The board of trustees for Mississippi's universities announced its preferred candidates today for the presidencies of Alcorn State University and Jackson State University. M. Christopher Brown, executive vice president and provost at Fisk University in Nashville, Tenn., is the board's pick for president at Alcorn. The board selected Carolyn W. Meyers, former president of Norfolk State University in Norfolk, Va., for the Jackson State post.
Meyers served as president of Norfolk State from 2006 until her resignation in June. During her tenure, the school's freshmen enrollment increased 19 percent in one year. The university opened an honors college, additional degree programs, and a school of graduate and professional studies.
Meyers received her bachelor's degree in mechanical engineering from Howard University. She received her master's degree in mechanical engineering and doctorate in chemical engineering from Georgia Tech.
Before coming to Norfolk State, Meyers served as a professor, provost and vice chancellor for academic affairs at North Carolina Agricultural and Technical State University.
Meyers resigned in June at the end of the fourth year of a five-year contract. In November 2009, she was a finalist for the president's position at Morgan State University. According to the Norfolk Virginian-Pilot, she submitted her resignation from Norfolk State that same month with the understanding that it would not be publicized until 2010.
Brown came to Fisk in July 2009 from the University of Nevada, Las Vegas, where he was dean of the university's College of Education. He has also taught at Pennsylvania State University, the University of Illinois at Urbana-Champaign and the University of Missouri at Kansas City.
Brown attended South Carolina State University, where he earned his bachelor's degree in elementary education. He received a master's degree in educational policy and evaluation from the University of Kentucky and a doctorate in higher education from Pennsylvania State University.
The candidates will attend public listening sessions at their respective campuses Nov. 30 and Dec. 1 before the board takes a final vote on their selection. Brown will visit Alcorn State at 8 a.m. on Nov. 30. and state college Board of Trustees will hold a final vote on his appointment, at 3 p.m. Meyers' Dec. 1 visit to JSU will start with listening sessions at 8 a.m. in the JSU Student Center and end with a board meeting at 3 p.m., also in the Student Center.