Wednesday, November 17, 2010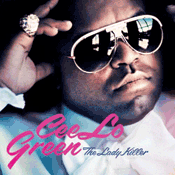 I am not a soul-music guy, generally speaking; I grew up on punk rock for the most part. Outside the luminaries of soul—Stevie Wonder, Isaac Hayes, the Motown greats like the Four Tops and Marvin Gaye, Al Green and Sam Cooke—my knowledge of the genre drops off precipitously on the musical graph. For the most part, modern soul seemed to be relegated to musical pillow talk. It sounded like background music, something to underscore the romance.
Thank God for Cee Lo Green and "The Lady Killer." Green brings soul singing back front and center, throwing a spotlight on it and making soul music that commands your attention like the forebears he so obviously reveres.
The former member of Dirty South rappers Goodie Mob, as well as the voice of Gnarls Barkley (whose single" Crazy" only hinted at what was next), squeezes more funk and sweat and emotion out over the course of one album than a host of wannabe lover-boy types chosen for their chiseled abs and cheekbones in place of talent.
Let's face it: Green is nobody's chiseled anything, but the man's voice is the hook. Green's nimble vocal chords show impressive range, and his intonations are more than a singer paying homage to his influences: This is a formidable entertainer announcing his presence and deserving a listen.
From the opening, "The Lady Killer Theme (Intro)," a mixture of piano and spoken word that morphs into a surf-guitar-tinged spy-movie theme, Green serves up his mission statement. He does what he wants, and for those who insist rappers can't sing, well, here is your proof to the contrary.
Touching on elements of '80s pop in "Bright Lights, Bigger City," which makes use of a "Thriller"-era-worthy rhythm in recognition of the imminent arrival of another weekend, Green goes on to simultaneously draw inspiration from and display a reverence for the architects of soul over the course of the record.
Motown pop bubbles up through "Satisfied," and "It's OK" sounds like a lost gem from the vaults of Detroit. Elements of Stax Records, Hi Records and southern gospel weave in and out through the tracks. The spy theme returns on "Love Gun" in the form of a cat-and-mouse duet with Lauren Bennett in which the two channel James Bond, John Barry and Lallo Schifrin to great effect.
"Wildflower," a string-laden come-on and its jazzy darker counterpart, "Bodies," encapsulate the excessive arrangements of Philly Soul in the late '60s and early '70s.
Then there is what stands as the galvanizing force of this batch of tunes: "F*ck You," which incorporates back-up singers, funk guitar, bitterly funny lyrics and a heartbreakingly humorous use of four-letter words. Green conjures up the perfectly unplayable single, a breakup song for the text and Twitter age.
The album closes with "The Lady Killer Theme (Outro)" reprising the spy theme once more to bring the whole thing to a satisfying end.
The album tries on different stylistic motifs in a winning effort to both update and celebrate the sound of a genre that has been severely languishing between ultimately empty sheets. Green raised the bar with what is easily one of the most satisfying albums from start to finish in recent memory. (And when is the last time you really got your money's worth on a CD?)
"The Lady Killer" excels at evoking echoes of every great soul single, floating around not as ghosts but as unifying spirits that inform a modern distillation of soul history. And it sounds timeless.