Wednesday, November 17, 2010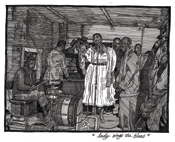 Doodling a detailed picture on a napkin, the architect with white hair and blue eyes concentrates while a waitress clears the plates around him. The drawing catches her attention during the lunch hour at Burgers and Blues Café. He letters her name and adds flourishes. He leaves the napkin along with a tip.
Jeffrey Yentz, 55, has left behind detailed drawings on napkins at coffee houses in Kosciusko and Jackson. The napkin he leaves at Burgers and Blues that day turns into an offer for a commissioned work of art: a collection of studies of hands playing guitars.
Four months later, Yentz has completed 32 large ink drawings of blues scenes from around Mississippi. The pieces are nostalgic, inspired by photographs from the 1950s and 1960s: women dancing in a juke joint on a Saturday night, a man playing the drums, a farm couple sitting on their porch.
Yentz only moved to the Jackson area last year, taking a position with the architecture firm Dean and Dean. His specialty is designing medical facilities. But it was at his last corporate job in Virginia, where he worked for 10 years, that he started to feel as if something were missing.
"I was at an impasse," he says. "Do I want to coast the rest of my career, or do I want to make a difference?"
He was ready for a new chapter in his life. Jackson was a good place for a medical architect. And when Yentz and his wife Faye, 55, found a house in Canton, she made sure there was a place to keep her horse. He was looking for something else to make him feel needed.
Moving to Mississippi made him realize the obvious: Mississippi was the home of the blues, not Chicago as he had assumed as a kid. Yentz loved the blues and wanted to explore this side of his new home. He has met so many people connected to the blues and has felt a personal connection. For Yentz, that has made all the difference.
"It's so nice to be accepted for who you are and what you are," he says.
"Each piece represents an attempt to reflect personality. If something doesn't strike me emotionally, it doesn't get drawn."
Crosshatches, parallel lines that cross one another, fill his pen and ink drawings. The lines are so fine, so straight and so repetitive, the drawings look like etchings or linoleum prints. His intense stare focuses on his rhythmic drawing.
"I lose time when I draw," he says.
A fine-nib pen glides across heavy paper creating straight lines by freehand. The width of each line has to be just right. The pressure Yentz applies has to be just right, strong enough to leave an impression in the paper, almost like an engraving, but gentle enough not to tear it. The result is pictures with texture.
First, he draws in pencil. Then he goes over that in ink, adding more details. He uses new pens for the fine lines and older ones for shading. He goes through about six pens for each drawing.
Art is nothing new to Yentz. About five years ago, he worked in watercolors. He also loved art as a teenager. His father, who worked as a foreman in an iron foundry in Wisconsin, was suspicious of any field that didn't have a practical business application. While his dad wanted him to work in the foundry one day, Yentz longed for an artistic outlet. Their compromise was architecture school.
When he started this series of pen-and-ink drawings earlier this year, Yentz said it was as if it had awakened a sleeping giant. He began to feel this was his calling and this was what he was meant to do.
One of his most recent works is a close-up of Robert Johnson Jr. playing the guitar.
"I chose to focus on the hands of a craftsman, a person who carved out a prolific place in the blues," he says.
A half-dozen large pen-and-ink drawings by Yentz are on display and for sale at Burgers and Blues Café, 1060 E. County Line Road, Ridgeland.