Wednesday, November 17, 2010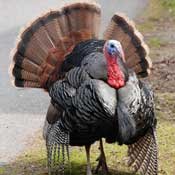 Take a deep breath and step away from the turkey. Now exhale slowly, and let's take stock of the situation. You have been awarded/punished/tested with the job of preparing the holiday bird. You are unsure of your skills and fear that a dry turkey could prove to your husband/boyfriend/in-laws/complete strangers that you are a complete failure in all aspects of your life. Your doctorate ... meaningless; Top-ten record ... junk; awesome at Scrabble ... nothing. Mess up the turkey, and you will be sitting at the kid's table next year making hand-turkeys and cutting them out with round scissors.
This is your fate. Unless you listen to me.
A turkey is just a big bird that needs a few tricks to make it great. All we have to do is buy it, brine it, butter it, bake it, and by God, let it rest. Everything else is just window dressing or showing off.
Like the ex-drinkers say, "Let's take this one day at a time." Buy a fresh turkey if you can. If you've been given a frozen turkey, don't wait until Thanksgiving to start thawing it out, or you'll have a great turkey for Christmas. Make sure it is completely thawed before starting our first steps.
On Tuesday, clear out enough room in your fridge to fit one of those big orange buckets from the hardware store, making sure the bucket is clean. Pull all of the organs out of the cavity of the turkey, and put the bird in the bucket and the bucket in the fridge. On the stove top, mix one-half gallon water with two cups of salt, one cup of brown sugar, one cup of molasses and two cups of apple cider vinegar.
Bring this mixture to a simmer, and stir until all of the solids are completely dissolved. Add to this one-and-a-half gallons of ice water and stir. Add to the cold liquid several sprigs of fresh rosemary, a handful of fresh sage, one pod of garlic (sliced sideways through the center) one cut-up lemon and one cut-up orange. Pour this mixture into the bucket with the turkey, cover it with foil and let it sit in the fridge until Thursday.
Thursday morning, put two sticks of butter in a mixing bowl and add a tablespoon of salt, a teaspoon of pepper and a tablespoon of garlic powder. When the butter is soft enough, make a compound butter by mixing all of the ingredients with a whisk until the seasonings are fully incorporated with the butter. Put the compound butter in a pastry bag (or a gallon zip bag if you don't have a pastry bag), and let sit at room temperature until you are ready to cook the turkey.
The turkey will take 16 minutes per pound to cook and will need to rest for at least five minutes per pound, so make sure you leave plenty of time before guest will be starving and ready to revolt by ordering pizza. This means that a 15 lb. turkey will take almost five hours to cook and an hour and fifteen minutes to rest. That is six hours and fifteen minutes from start to finish. So if you are having lunch, start early.
Take the turkey out of the brining liquid and pat it completely dry. Rub the inside of the cavity with salt and pepper. Insert two fingers between the skin and the meat of the breast, and separate as much as you can without tearing the skin. Stick the nozzle of the pastry bag between the skin and the meat, and squeeze out one half of the bag under each side of the breast skin. If you are using a zipper bag, cut through a corner of the bag, and insert that under the skin and squeeze out the butter. Use your hand to massage the butter under the skin to spread it out as much as you can. Liberally season the outside of the turkey with salt and pepper, and rub the skin with olive oil. Truss the legs and wings tightly to the body of the turkey, and place a foil tent over the breast.
Cook in a 325-degree oven until a thermometer inserted into the thigh reads 165 degrees. For the last hour, you can remove the foil tent to get a little more color on the bird.
Take the turkey out, cover it with foil and let it rest. This is the single most important part of the whole process. If you carve a hot turkey, you will get a huge puddle of juice on your platter or cutting board. All of that juice would have stayed in the turkey if you had just listened to me.
So remember, buy a good turkey, brine it for at least two days, butter the breast, bake it with care, and by God, let it rest.
If you still mess it up, blame it on that "bad thermometer" in your oven, and slather on the gravy.
Tom Ramsey is the founder and co-owner of Ivy and Devine Culinary group. He will be serving this very turkey to Kitty's ravenous family. For more info on Tom, visit http://www.tomramsey.com.
Previous Comments
ID

161064

Comment

We used your method this past weekend for a neighborhood gathering, and it was THE BEST BAKED TURKEY we've ever had! The white meat was almost moister & better than the dark!

Author

howelljd

Date

2010-11-23T14:31:25-06:00
ID

161128

Comment

Glad you enjoyed it! You can use the same method for roasting whole chickens, just cut down the amount of ingredients to suit the size of the bird. Bon Appetit - Tom

Author

Tom Ramsey

Date

2010-11-30T13:51:48-06:00