Wednesday, November 17, 2010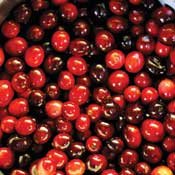 To my family, it's not fall until Mom cooks the first batch of cranberry apple bake, warming the kitchen and filling the house with the smell of brown sugar.
Cranberry apple bake is a special dish in my family—typically reserved for Thanksgiving, Chanukkah, weekends, and now my trips home from Millsaps College.
My favorite fall days as a kid were when I would wake up to a hot dish of cranberry apple bake, and Mom and I would spend the rest of the morning in the library downtown.
Once I grew tall enough to reach the kitchen counter, Mom made me her assistant chef and taught me how to make it. It was my job to stir the cranberries and the sugar together, which mainly meant I got to eat handfuls of berries.
My mom received this recipe at a kitchen shower before my parents' wedding in 1980. Each invitation held two recipe cards, and guests were asked to copy down their two favorite recipes. Mom wanted to get a head start on her kitchen.
"I got this one from my friend Jenny, who was a grade older than me," Mom recalls. "It was an old family recipe in her family that they used starting at Thanksgiving."
The recipe is a Thanksgiving staple for my family, even my picky grandpa. It can be served hot, warm or cold for breakfast, dessert or as a side.
Cranberry Apple Bake
4 medium apples
1/2 of a 12-ounce bag of fresh cran­berries
1/4 cup sugar
1 stick butter
3/4 cup brown sugar
1-1/2 cups oatmeal
Slice apples, and combine with washed cranberries and sugar. Mix well and put in a baking pan.
Melt butter, and add brown sugar and oatmeal to make the topping. You may need to add in a little water if it's too thick. Spoon the topping onto the fruit.
Bake at 350 degrees for about 30 minutes.