Monday, November 15, 2010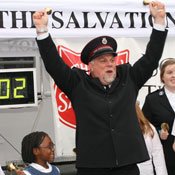 When you do your shopping this holiday season, you might hear Capt. Ken Chapman's determined bell ringing for the Salvation Army's Red Kettle.
On Nov. 3, the Jacksonian became the new Guinness Book World Records holder for the longest time ringing a handbell: 30 hours, five minutes and 50 seconds, beating Canadian Joe Defries' record of 28 hours, 50 minutes and 21 seconds. Chapman says he wanted to raise awareness about the program and inspire people to volunteer. The Salivation Army hosted the record-breaking event at Jackson Imports. This year, the Salvation Army is switching from paid bell ringers to volunteers to save costs.
"I believe ringing a bell for an hour or two can really change a life. It's a wonderful way to teach your children to give back, and there are a lot of people who may not feel like they can give money, but they can certainly take a few hours to ring the bells. That saves us from having to pay people so all of that money goes directly toward helping people," he says. "When Jackson pulls together and gives sacrificially, we're all going to benefit."
During his 30-hour bell ringing, Chapman accomplished the task by eating finger foods, drinking Red Bull and continuing to ring the bell during restroom breaks.
Chapman, 53, earned the Salvation Army's title of captain after completing five years of service as a lieutenant. He has been married to a fellow Capt., Jessie Chapman, for 17 years. The Savannah, Ga., native has volunteered or worked for the Salvation Army for 43 years. He came to Jackson in 2009 to serve in his current position. "About two years ago the Lord got a hold of me and said: 'I've got something different for you' and here I am in Jackson, " Chapman recalls.
Chapman earned two master's degrees in music education and conducting from Armstrong Atlantic State University in Georgia. He also serves as a Salvation Army bandmaster.
The Red Kettle bell ringing begins today and continues until Dec. 24 at 48 locations in the Jackson metro. To volunteer, visit salvationarmyjackson.org or call 601-982-4881. Chapman will ring his bell in various locations in the metro through Dec. 24