Friday, November 12, 2010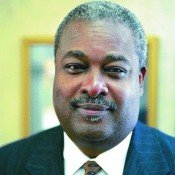 The Jackson City Council will address a fee increase of 13 percent for water and 6 percent for sewer services during Tuesday's city council meeting. Jackson Mayor Harvey Johnson Jr. proposed the hikes for Jackson residents and businesses in August for the city's 2011 budget to shore up drops in sales-tax revenue.
The budget avoided increases in property taxes and city employee lay-offs, but Johnson said the city needs to drum up revenue to support replacement of the city's aging water and sewer infrastructure.
The mayor called the increase "modest" during his August budget address to the city council, and said it "would amount to a $3.08 increase per month for water and a $1.32 per month increase for sewer for the average residential customer."
"That's just over $52 a year, or about $1 per week," Johnson added. The mayor is also proposing to install modern city-wide water meters over the next few years to shore up revenue, which will automatically monitor individual water use throughout the city.
Ward 7 Councilman Tony Yarber said he was not pleased with the fee increases, but considered them "a necessary evil" to keep the city budget balanced.
Ward 1 Councilman Jeff Weill, who is vacating his council seat in January to adopt his newly elected post as a Hinds County Circuit Court judge, said he does not welcome the increases. The councilman said the fee hike would be unnecessary if the city would instead cut unnecessary services in other sectors.
"[T]he budget is bloated and continues to pay for tennis courts, half a million dollars for golf courses, tens of thousands of dollars for feel-good trophies for the kids, lavish benefits for city employees, and I'm concerned for the taxpayers of Jackson," Weill said in September after the council approved the budget. Weill joined Ward 3 Councilman Kenneth Stokes in voting against the budget and fee hikes--although the reason for Stokes' dissent lay in the absence of employee pay raises.
Virden Addition Neighborhood Association President Jimmy Robinson said the fee hike would have an impact on the senior citizen population, many of whom live on a fixed incomes.
"It's a tough bullet to bite, but we're going to have to bite it, and cut down on other things to pay for it," Robinson said. "There are extra expenditures going on. People are still buying beer and going to the (casinos), but we're going to have to cut back a little bit more, and I hope the city can offer whatever aid they can to our senior citizens, if it proves necessary."
The city is required to hold a public meeting before the council can vote to approve the increase. City spokesman Chris Mims said the ordinance would be back before the council for official approval within the next few months.
Previous Comments
ID

160887

Comment

So here's the Jackson plan. Shut down the central water station, and run a 36" pipe all the way to the rez. Pay the contractor extra- cause no one knew swamps were back by the river. Differ all taxes for the new businesses using the new system for ten years. Then raise taxes. Awesome plan Harvey. And yes this is his plan. Farish st. got new water lines back in 01-02. Has there been enough generated revenue to justify that? I doubt it.

Author

Mark Ellis

Date

2010-11-12T16:43:00-06:00
ID

160909

Comment

Mark Ellis, I have no idea where you get your information from -- certainly NOT from the story. What do water lines put in eight or nine years ago on Farish Street (and, I imagine, many other places in the city) have to do with what's happening in 2010, when we're three years into the worst economic conditions since the Great Depression?

Author

Ronni_Mott

Date

2010-11-15T12:02:36-06:00
ID

160912

Comment

Blame Mayor Harvey Johnson: Blame President Barack Obama. Mark, you are really on a roll. Are you absolutely, positively certain that this is not a BLACK thing with you??? Just asking!

Author

justjess

Date

2010-11-15T15:18:43-06:00