Thursday, November 11, 2010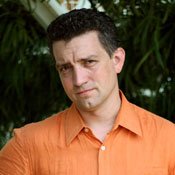 A "Wizard of Oz"-inspired mini-golf course, 10,000 portraits on 10,000 matchbooks and a bed made from grass are all examples of participatory art projects in New York City. If David Koren has his way, participatory arts projects will happen in Jackson, too.
Koren, 40, is the executive producer of FIGMENT, a New York City-based collaborative and participatory arts organization started in 2007. Koren is hosting an interest meeting tonight at the North Midtown Arts Center about bringing FIGMENT to Jackson.
Koren says he is coming to Jackson to get a feel for the city's arts scene and help it expand.
"In New York, (the project) was a response to the sense that there weren't a lot of places for artists to go," he says. "We were looking to open up some opportunities and create a new kind of arts event that was open to anyone to participate in and to really build community."
FIGMENT holds one major art showcase every summer on Governor's Island, N.Y. This year, the event attracted 25,000 visitors, with mini-golf, a sculpture garden and architectural pavilion.
The organization's events and exhibits are free for participants; the organization believes that putting a price tag on art cuts people out.
"It's about making art together and enjoying it while you're creating it," Koren says. "We're really about giving everyone a place to express themselves. ... Anyone should be comfortable coming and participating."
FIGMENT expanded to Boston last year, and Koren said the organization has plans to continue expanding geographically and engage with more youth.
"As we've seen education cuts, art is something that usually gets cut first. The arts and the development of the abilities to create and to collaborate in children is something that is vitally important for their future success," he says. "To us, FIGMENT is all about learning at every level."
Koren is native of Pottstown, Pa. and has lived in New York City for the past 20 years. He holds a bachelor's degree in dramatic writing from New York University and a master's of philosophy in Irish theatre studies from Trinity College in Dublin. Koren is also an associate principal and the director of marketing at Perkins Eastman, the largest architecture firm in New York.
Koren's presentation is tonight at the North Midtown Arts Center (121 Millsaps Ave.) at 6 p.m. The presentation is free and open to the public.