Wednesday, November 10, 2010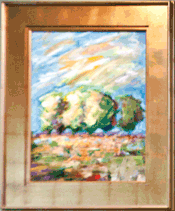 When Professional Staffing Group co-owner Jane Sanders Waugh isn't running her Fondren business or acting in a local theater production, she likes to spend her free time perfecting her Jackson home (pictured on the cover of this issue). Over the years, Sanders Waugh has used artwork from local artists to decorate her space. She gives a few tips on how to decorate with art:
• Make it personal. Select artwork from artists you know and want to support. If you have a connection with the artist, their work will have more meaning for you. Even if you don't know the artist, you can still feel a personal connection from your emotional response to the artwork.
• Select a variety of media. An eclectic arrangement of artwork can break up a space, so think about decorating with less traditional media, such as photographs, pottery, bottles and seashells.
• Connect art to your surroundings. Make sure the art fits in with your space. Look at colors, designs and content and select the place where it pleases you the most. Pay attention to the emotions the artwork invokes and coordinate with pillows or rugs.
• Use the artwork to tell personal stories. Think outside the box. Sanders Waugh has wood installation in her living room that is designed out of natural elements. The installation appears as a supporting beam for her living-room ceiling. She also painted an empty wall with chalkboard paint and filled the space with notes of inspiration and poetry. Sanders Waugh calls the wall interactive art because her friends and family also write messages on the wall.