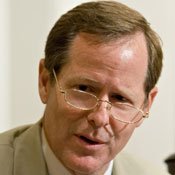 Ward 1 Councilman Jeff Weill's election to a Hinds County Circuit Court judge seat means a second mid-term vacancy for Jackson's Ward 1 council seat. Former Councilman Ben Allen abandoned the seat in 2007 for health reasons, he said then, triggering a special election that Weill won.
Weill told the Jackson Free Press prior to the Nov. 2 election that he was "confident the office will be in good hands," judging by the people interested in the seat.
Lobbyist Quentin Whitwell confirmed to the Jackson Free Press today that he would run for the Ward 1 seat. Whitwell who represents clients from United Healthcare to U.S. Smokeless Tobacco. His company website at Brunini, Grantham, Grower & Hewes describes him as a skillful campaign organizer. Gov. Haley Barbour appointed Whitwell to serve as chairman of the Mississippi Tort Claims Board.
"Jackson faces big issues with public safety and taxes, and I do not plan to run to be a cantankerous voice of disunity on the council," Whitwell told the Jackson Free Press today. "I plan to work hard with other folks on the council and the mayor's office."
Former Deputy City Attorney Reginald Harrion told the Jackson Free Press that he is considering seeking the seat, but is still "exploring" the political environment. Harrion worked under former Mayor Frank Melton, where he occasionally found himself knocked between a combative city council and the Melton administration. Council members ranted when Harrion followed orders from his boss, Mayor Melton and City Attorney Sarah O'Reilly-Evans. He now works as a private attorney.
University of Mississippi Medical Center physician Jonathan Jones, who ran briefly against Weill during Weill's 2009 re-election campaign, may run the full race this time around. Jones told the Jackson Free Press in 2009 that he supports expanding the police department and better using their time. He also supports installing solar modules on some city buildings as an investment to save money in the long run and increasing fines on signal-light offenses to improve traffic safety.
The Clarion-Ledger reported that Melton's former Chief of Staff Marcus Ward might run for Weill's spot. Ward currently serves as Alcorn State University vice president for development and alumni relations. Some council members and city employees considered Ward Melton's right-hand man, saying he occasionally escorted newly fired employees out of city offices.
The city has only 45 days to hold a special election once Weill officially resigns. City spokesman Chris Mims said Weill has not yet informed city administration when his resignation would take place. Weill said he is scheduled to be sworn in Jan. 3.