Wednesday, November 3, 2010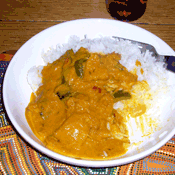 I usually talk about the pleasures of meat. I love meaty good meatness. But today, I diverge. Today's recipe is vegetarian. It could even be made vegan by substituting olive oil for the butter. You could heap in some cow, pig, goat, fish or chicken and be just fine, but for this particular dish, it isn't necessary. So for all the vegetarian readers out there, here is a Tom recipe you can actually use.
When you go in the store any time between now and Christmas, you'll see pumpkins. Big ones, little ones, round ones, tall ones, even fancy variegated ones. But for sure, you will see pumpkins. My guess is that most of these orange beauties end up with triangles and funny teeth cut into them. But for some of us, the arrival of the pumpkin in the grocery store is a touchstone of fall and a clear signal to start cooking a different way with different foods. Gone are the light summer veggie relishes and in are the gourds, tubers and woody spices. Out with steamed brook trout, and in with braised pork belly over parsnip puree.
Fall is also a great time for spicy foods. So today, I give you pumpkin curry. On your next visit to McDade's, pause at the display and grab a bunch of pumpkins. You can store them as a display until you are ready to eat them, and you'll be amazed at what you've been missing all those Halloweens when you just scooped 'em out and carved 'em up and left them to wither on your porch.
PS: They really hate that.
Pumpkin Curry
1 medium pumpkin
1 yellow onion
6 cloves garlic
1 green bell pepper
1 red bell pepper
1/2 bunch green onions
3 tablespoons butter
2 tablespoons Madras Curry powder
1 teaspoon turmeric
1/4 teaspoon cinnamon
1/2 teaspoon red pepper flakes
1/4 teaspoon cumin
1/8 teaspoon ground clove
1/8 teaspoon ground cardamom
1/2 cup coconut milk (unsweetened)
1/2 cup vegetable broth
Salt
Cayenne pepper
Lay the pumpkin on its side and completely cut through the top and bottom and discard. Stand the pumpkin on the cut bottom and cut in half from top to bottom, creating two semi-spheres of pumpkin. Scoop out all "strings" and seeds and discard. Slice the pumpkin into 2-inch strips from top to bottom. Carefully lay each strip on its side and cut off and discard the rind, leaving only the tender part. Cut this part of the pumpkin into 1-inch cubes. Roughly chop the onions, garlic, bell peppers and green onions.
Melt butter in a large saucepan or stockpot over medium-high heat. When the butter completely melts and begins to foam, add onions and cook until slightly softened and translucent. Add garlic, pumpkin, bell peppers and green onion. Simmer until vegetables begin to soften. Add curry powder, turmeric, cinnamon, red pepper flakes, cumin, clove and cardamom. Stir over medium heat until all seasonings are fully incorporated in the dish. Add coconut milk and vegetable broth, and cook over medium heat until the liquids thicken and reduce by one half of their original volume.
When sauce is reduced and thick enough to coat the back of a spoon, taste and add salt and cayenne pepper as needed.
Serve in a shallow bowl over basmati rice.
(Serves 6)