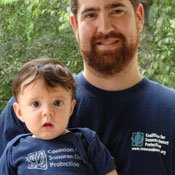 Sean Sullivan hopes to change federal border and trade policies by organizing a photography exhibit on the harmful environmental affects and habit disruptions from a newly constructed U.S.-Mexico border wall.
Sullivan, 31, is the Mississippi Sierra Club Borderlands Team co-chairman. The group of Sierra Club staff members and volunteers from all over the country are organizing a grassroots campaign to raise awareness about the 600-mile long wall that he says has caused erosion, flooding and ecosystem destruction, in addition to the deaths of thousands of immigrants.
The exhibit, "Continental Divide," begins tomorrow and showcases the work from a team of International League of Conservation Photographers who documented wildlife and ecology destruction along the wall. Photographers include Jack Dykinga, Kevin Schafer, Wendy Shattil, Cristina Mittermeier and several others.
"We are opposed to the construction of the border wall," he says. "It disrupts habitats, it disrupts the watershed and it blocks wildlife from moving back and forth. Within their natural habitat, wildlife do not recognize political boundaries and (they) need to move freely across the landscape to survive."
Sullivan said the 2006 federal Secure Fence Act permitted the wall's "quick and reckless" construction. He said that while the Sierra Club has a neutral position on immigration, the organization is working to repeal the law.
"When people get a visual of it, we hope that they will think twice about the policy," he says.
Sullivan, 31, earned his bachelor's degree in political science from the University of Arizona. He moved to Jackson a year ago from Tucson, Az., where he worked as the associate director for the Coalition for Sonoran Desert Protection. He lives in Jackson with his wife, Jessica Piekielek, an environmental anthropology professor at Millsaps College, and their 8-month-old son, Finnian Evers.
"Continental Divide" is presented in conjunction with the Mississippi Immigrants Rights Alliance Unity Conference. The exhibit runs Nov. 2 at 5:30 p.m. through Nov. 5 at the Cabot Lodge (2374 N. State St.). On Friday, Nov. 5, at 5:15 p.m., The Borderlands Team host a viewing of the documentary, "Wild Versus Wall." For more information about the exhibit, visit the team's website . For more information about the Unity Conference, visit the [url=http://www.yourmira.org/get-involved/unity-conference-2010/ MIRA website.