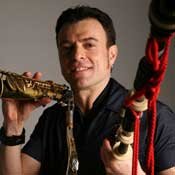 Israeli musician Amir Gwirtzman says that his recent experiences in the South confirms his belief that music has the power to transcend race and cultures.
"Music is an international language and jazz especially--there are jazz lovers all over the world," he says . "...It's amazing to find out that music can touch human beings all over the place."
Gwirtzman, who plays 25 instruments including saxophone, clarinet, flute and various other woodwinds from around the world, has spent the last four months traveling throughout the South, performing and giving workshops sponsored by the Charles and Lynn Schusterman Family Foundation and The Goldring/Woldenberg Institute of Southern Jewish Life.
As a Schusterman visiting artist, Gwirtzman, 44, had the opportunity to lead the Mal's St. Patty's day parade with his bagpipes, perform with local jazz musician Rapheal Semmes and try southern cuisine.
"I love the food here," he says. "I had never tasted fried green tomatoes in my life and I just love them. I love all the greens--the collard greens and the turnip greens and the mustard greens."
Gwirtzman, who is a native of Tel Aviv, Israel, began playing the recorder at 7. After that, he started playing any instrument he could get his hands on. He served as a musician in Israel's Air force Band from 1983 until 1986 to fulfill Israel's requirement of military service,
After his service, he formed the band Esta, which combines jazz, rock and international instrumentals and starting touring around the world.
Gwirtzman's final performance on his southern tour is Saturday at the Renaissance Fine Arts Festival in Ridgeland with Raphael Semmes at 4:30 p.m.