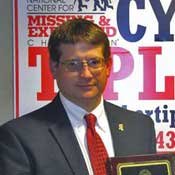 As an investigator with the Mississippi attorney general's Cyber Crime Unit, Brian Keith Leavitt's attention to detail and use of technology has uncovered hundreds of child-exploitation cases in the state.
Last week, the Mississippi Center for Police and Sheriffs awarded Leavitt the "Top Cop" award for his 16-year career in law enforcement along with 25 other officers during the annual Police Memorial and Appreciation Day. Attorney General Jim Hood nominated Leavitt for the award.
"Receiving this award was a great encouragement to me personally andprofessionally," Leavitt said in a statement.  "It is a privilege to work with an outstanding team of prosecutors and investigators who not only encourage me to be a better investigator, but to work hard every day to protect the citizens of Mississippi."  
Leavitt, 38, plays an instrumental role in obtaining evidence and requesting search warrants for individuals committing cyber crimes in areas such as identity theft, child pornography and cyber stalking. He also does computer forensics investigations for evidence in felony trials throughout the state.
"Keith is one of the hardest workers I know, he really takes pride in what he does," Brandon Ogburn, director of the AG's cyber crime unit said. "Recently, we uncovered an individual downloading child pornography, and he went above and beyond the examination. His efforts helped rescue that individual's stepdaughter who had been sexually abused."
Leavitt is a native of Louin, Miss. He currently lives in Florence with his wife and two daughters Morgan, 12, and Syndey, 5. Prior to working for the attorney general's office, he worked as a parole officer and investigator for Hinds County.