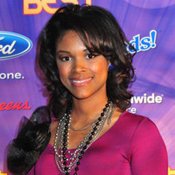 Brittney Dear grew up singing gospel music in her church choir, but she never thought she would have the chance to perform on national television.
In March, Dear, who lives in Madison, auditioned for the B.E.T.'s "Sunday's Best," a TV show in which celebrity judges--Donnie McClurkin, Yolanda Adams and Tina Campbell--select a finalist gospel singer out of several hundreds of aspiring contestants.
After waiting outside the New Orleans Convention Center for eight hours, Dear, 22, made it through the first cut for television show. The next day, she drove back to New Orleans and made the second cut. She appeared on the show, which aired on May 11 and sang "Here I Am To Worship" but judges eliminated her after the first round.
"I was nervous," she says. "This was the first time that I performed on such a platform."
Dear grew up in Brandon and is the daughter of local musician Billy Dear, who she says is her inspiration.
"He always encouraged me to sing, if I wasn't beside him on a piano stool, I was with him at an audition," she says. "I've always been passionate about music and I'm passionate about lifting people up with my music. "
Dear is a student at Holmes Community College, a bank teller at Regions Bank and mother of a six-year-old daughter. She says her experience on "Sunday's Best" helped her realize that she wanted to pursue music more seriously.
"My story is inspiring because I did have a child at a young age and there is lots of stigma and (negative) statistics about teenage mothers," Dear says. "I am a living testament that you don't have to stay down after that. You can fulfill your dreams and still be a good mom."
Since the show, Dear says she has gotten several invitations to perform. Dear's childhood friend, Best of Jackson Gospel musician winner Dathan Thigpen joined her on the show. Thigpen is remains on the show as a finalist.
On Sunday, May 16, The Auditorium (622 Duling Ave.) will host a "Sunday's Best" viewing party from 6 p.m. to 9 p.m. with an appearance by a surprise guest.