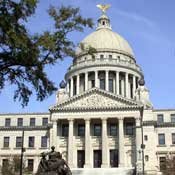 Lawmakers are eliminating in-state and out-of-state travel expenses in an effort to cut $700,000 from the state House of Representatives budget without laying off employees, reports WLBT.
"We don't have any other way to come up with $700,000 at this time," House Management Committee member Credell Calhoun, D-Jackson, told WLBT. The House hopes to save about $600,000 with the cuts.
The Mississippi Senate has reduced its budget by 6 percent this year by restricting travel, committee meetings, reducing salaries and eliminating staff positions, Senate Rules Chairman Billy Hewes, R-Harrison, told WLBT. Those savings should reach 12 percent in the next fiscal year, which begins July 1, and will go back to the state's general fund.
Overall, Mississippi's budget for fiscal year 2011 is $5.5 billion, which amounts to a 12 percent cut for most agencies, according to the story.