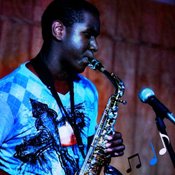 Calvin Bogan, 19, is taking his passion for music to Boston this summer. "One thing I love about music," he says, "is that music touches people in different ways."
Bogan's love of music began in childhood. He joined the Blackburn Middle School band in seventh grade playing the saxophone, but he is also learning the trumpet, clarinet and French horn. His dedication has earned him a scholarship to the Berklee College of Music's five-week summer program, valued at $7,500, through Berklee Mississippi Music Exchange. Steven Johnson, grandson of the legendary Robert Johnson and vice president of the Robert Johnson Blues Foundation, scouted Bogan for the scholarship.
In Boston, Bogan will play with students from all over the world.
"I am very excited to experience music from a school-of-the-arts level," he says.
The Wingfield High School grad is currently enrolled at Hinds Community College in Utica, but hopes to eventually earn a master's degree in music education.
Bogan says he practices everyday with the full support of his parents, Edward and Mary Bogan. He regularly plays in church, and loves the way gospel music moves his audience. "You could see the emotions on their faces," he says of one particularly moving performance.
The Berkee summer program begins in July, and Bogan will leave for Boston July 10. He joins Paula Thompson from Clarksdale, who also received a scholarship to the program.