Wednesday, March 17, 2010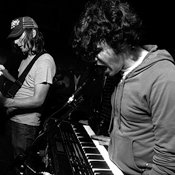 It's spring break in Jackson, and that means the Sweet Potato Queens are here, ready to show off their greenery for Mal's St. Paddy's Parade on Saturday. After the dreary winter we've had, everyone's ready for a little spring green—even if you're not Irish.
There will be celebrations and libations at Hal & Mal's, Fenian's and other downtown venues every night this week. Watch for daily updates on the JFP Web site. The kickoff party is Thursday night at Hal & Mal's with the St. Paddy's Céilí (traditional Irish Dance) featuring the Jackson Céilí Band and Irish Dancers.
If you're a fan of Rock 93.9 radio, don't miss the big show this Thursday at Fire with Saving Able, Lynam, Taddy Porter and Creep Left, 9 p.m; $18. Saving Abel's new album is scheduled to drop in June, so the show will give you a sneak peak at the new material. Rock 93.9 will be on hand to give away schwag and support the show.
The Auditorium is featuring bluesman Eddie Cotton Thursday through Saturday. And blues-roots jukeman Scott Albert Johnson will bring his blues to Underground 119 Friday night. Johnson won "Best Local Musician" in the JFP's 2010 "Best of Jackson." Also Friday, the Sons of the Subway return to F. Jones Corner Friday, with late night blues from 11:30 p.m.-4 a.m., $5.
Friday night Hal & Mal's is hosting a parade warm-up party with the Kickass Krewe of Joosy Jones Dance Party and local favorites Passenger Jones to lend a hand. The '80s tribute band The Molly Ringwalds will supply the soundtrack for Fire Friday night, 9 p.m. They put on an eclectic '80s party mix, playing everything from hair metal to Adam Ant. For the more harmonious indie-rock vibe Friday, the best action is at Ole Tavern where the North Carolina-based band Schooner will perform. Come On Go With Us, a Starkville-based southern- rock outfit, will open the show.
Mal's St. Paddy's Parade kicks off at 1 p.m. Saturday, and post-parade action will be all over town. The Blues Brothers-inspired Bluz Boys, The Pinstripe Brass Band and others will provide the tunes for the street party entertainment at Hal & Mal's. Underground 119 hosts The Fearless Four in its parking lot after the parade. Fenian's will have non-stop bands inside and out on Saturday from 1-10 p.m. and 2-5 p.m. on Sunday. Check the music calendar for the complete line-up. Ole Tavern will kick off its Saturday St. Paddy's Party at 5 p.m., going all night with Dixie Nationals, Red Hill City, Furrows and The Peoples. The members of Galactic and the Charlie Hunter Trio's side project Good Enough for Good Times will bring the jams to Martin's Saturday night, 10 p.m. Listen at http://www.myspace.com/goodenoughforgoodtimes.
After you get a little rest and recuperation after the long Irish weekend, indie-rock fans will want to take a road trip to Oxford next Tuesday, March 23 for The Soft Pack at Proud Larry's.
Stick around Wednesday, March 24 for the Vivian Girls at the Red Star Bar and Japandroids with A Sunny Day in Glasgow at Proud Larry's the same night.
Be sure to check out the triple-bill of DIY garage rock next Thursday, March 25, in Hal & Mal's Red Room with Digital Leather, local favorites ¡Los Buddies! and Bare Wires. Hot off a stint at SXSW in Austin, the high-energy synth-punk of Fat Possum recording artists Digital Leather is the perfect mix of Jay Reatard/Goner Records and Ramones with some Devo synth thrown in. They've got hooks like Pavement/Stephen Malkmus for any fans of Goner Records, Lemonheads or Guided By Voices. Check them out at http://www.myspace.com/digitalleather.