Wednesday, March 10, 2010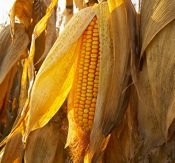 Flora, Miss., was the site yesterday of a groundbreaking ceremony for the Monsanto Company, producer of 90 percent of the world's genetically engineered seeds. The new $2.4 million, 26,000-square-foot facility, a corn-breeding station, will eventually employ 10 full-time and 50 seasonal workers, Monsanto said in a release.
"Our focus on research and development is what makes Monsanto a leader in agricultural productivity," Ted Crosbie, global breeding lead for Monsanto said. "Our new facility in Flora will help further strengthen our R&D capabilities, and also is a great opportunity for us to strengthen relationships and collaborations in the southern states."
The Center for Food Safety, a non-profit group based in San Francisco, lists some 112 lawsuits Monsanto has filed against farmers for seed-patent violations. The U.S. Supreme Court has agreed to hear one of its suits, Monsanto v. Geertson Seed Farms, over a ban on genetically modified alfalfa. The court's ruling is expected by mid-year.
The U.S. Department of Justice has undertaken an investigation of Monsanto regarding violations of anti-trust and monopoly laws and is set to hold public hearings in spring 2010, reports the CFS.