Wednesday, March 10, 2010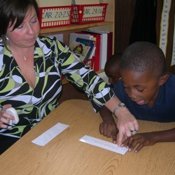 The Mississippi Legislature's wrangling over charter schools intensified yesterday when the House of Representatives passed a bill that would authorize "innovative schools" but voted down a provision for actual charter schools.
The House passed a revision of the Senate's charter school bill, S.B. 2293, that strikes the term "charter school" entirely and presents an alternative model: the "innovative school." Rep. Cecil Brown, D-Jackson, author of the House amendment, told the Jackson Free Press last week that the Senate bill was inferior. "The Senate (bill) is not good language," Brown said. "There a bunch of holes in it. I also just don't think it'll pass."
Brown was most concerned that the Senate bill's provision for "conversion" charters--existing public schools whose faculty and parents voted to become a charter school--was too vague on issues of governance.
Under Brown's proposal, parents at a chronically under-performing school can petition the state Board of Education for an innovative school designation. If a majority of parents support the transformation and the state Board approves it, the parents can then elect a five-member board from among them to handle all personnel decisions and day-to-day operations at the school. The new board can contract with an organization to run the school--in the manner of a charter school--or hire a principal itself.
"This isn't the (state) school board coming into your community," Brown assured House members during floor debate yesterday. "This is your community saying, 'My school is failing, and I'm tired of it.'"
Brown's proposal faced fierce opposition from some House lawmakers, though. In debate over his amendment, some representatives questioned turning schools over to parental control, while others seemed skeptical of any attempt at reform. Opposition to charter schools is stronger in the House than the Senate, especially among African American legislators who remain wary of changes to school governance.
"We keep coming in this room, pouring our hearts out, and before anyone knows whether it'll work, you try to reinvent the wheel," Rep. Billy Broomfield, D-Moss Point, said during committee debate on Brown's bill. "I'll bet you a fat man to a hot dog that before this goes into effect, we'll be back in here trying something else."
Charter schools are public schools that receive public funds but are operated by private, non-profit entities. Charter operators have greater freedom than traditional public schools in personnel decisions, curriculum and other aspects of management, such as school-day length. In return, they pledge to reach specific academic performance targets or risk losing their charter.
Proponents of charters argue that they free schools from bureaucracy, increase competition, and offer parents choices beyond the local, under-performing school. Opponents and skeptics question whether charter schools actually improve students' academic performance and worry that they may increase segregation or undermine local control. Education research, including a 2009 Stanford University study, has found that charters do not consistently outperform traditional schools, although some individual charter school organizations have documented more favorable results.
The innovative schools bill now returns to the Senate, which can vote to concur with the House changes or invite conference to hash out the differences. The Senate Education Committee, determined to pass some form of charter school bill, has also amended another House education reform bill to include a provision for charter schools. House Bill, which previous
Whether or not the Legislature succeeds in passing a charter school bill, or one like it, a similar experiment in education reform is making headway in the state without requiring the approval of lawmakers.
Four Mississippi school districts have reached agreements with the Barksdale Reading Institute, a Jackson-based literacy organization, to recruit principals for their elementary schools. Under the plan, the Institute--not the school district--will pay the principals' salaries for three years.
Founded by former Netscape CEO and philanthropist Jim Barksdale, the Institute provides literacy coaching in schools across the state. Jim Barksdale's brother, Claiborne Barksdale, the executive director, said the principal-recruiting program expands the organization's scope from improving individual classrooms to transforming whole schools.
"For several years, (we) have talked about what greater impact could we have, how could we maximize impact," Claiborne Barksdale said. "We've talked about charter schools, but we've never thought that we wanted to be a charter school. The scalability issue with charter schools has always been daunting. (With a charter) you're in control of the budget and so forth, and that's quite a different challenge."
"Practically speaking, there's not that great a difference," he acknowledged.
The director aims to hire top-notch principals. The Institute is recruiting candidates from as far away as Boston, Mass., and aims to finalize hiring by mid-March, he said. He would not give a specific salary figure but said that it would be competitive.
"One thing we're sticking to is that we're not going to take a highly-effective principal from a Mississippi school and poach," Barksdale said. "There's no point in that."
In return for the high-quality principal, participating school districts will give the Institute's principals more authority over personnel and curriculum at their schools.
The particulars of the Institute's agreement with each school district will be settled in a memorandum of understanding that the district superintendent, school board and state department of education must approve.
Four districts have agreed to participate in the program for next school year: Quitman County, Holmes County, North Panola and Hazlehurst school districts. BRI will hire and pay one elementary principal in each district.
In North Panola, currently in its second year under state control because of low performance, the Barksdale program offered an opportunity to save money on a principal's salary, which starts at $60,000.
""It's certainly a new process," said state conservator Bob Strebeck. "It's something we've never done."