Wednesday, March 10, 2010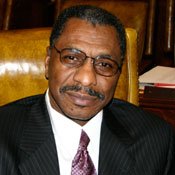 The House and Senate agreed on a major appropriation bill last week, when negotiators came to terms on appropriations bill SB 2495, which restores $82 million to the Fiscal Year 2010 budget, including $37 million slated for K-12 public education. House and Senate negotiators reached an accord after Gov. Haley Barbour sliced more than $450 million from the 2010 budget. The House and Senate will have to approve SB 2495, but will likely agree consider Barbour said he would not veto the bill. The House and Senate must still deal with budget shortfalls in fiscal year 2011.
The Senate sent a bill to the governor late last week that would allow counties to write rules governing strip clubs in rural areas. The Senate opened debate on the bill last Friday with a discussion on a strip club called The Pony, near West Point, which features a distracting statue of a well-endowed horse—that prompted locals to complain to legislators.
Rep. Ed Blackmon, D-Canton, may have single-handedly killed a bill that would have made politicians individually accountable for violations to the state's open-meetings laws. Senate Bill 2373 originally increased fines for violations of public meetings laws up to $1,000 and put the responsibility of paying those fines on individual violators. This Senate version of the bill also allowed the state Ethics Commission or a chancery court to nullify or void decisions made in meetings conducted in violation of state open meetings laws.
House members watered down the bill when it got to them, however. The House Judiciary A Committee removed language allowing the Ethics Commission or chancery courts to nullify decisions invoking fines, and removed language putting responsibility for paying fines from individual wrongdoers, which means they would be paid by the public body in violation—and, thus, paid by taxpayers.
Blackmon, who presided over the House Committee that removed both the personal responsibility language and the nullification power, held the bill on a motion to reconsider after the House passed the watered-down version.
Among the bills that met their death last week is SB 2623, an animal-cruelty bill that proposed making it a felony to torture dogs or cats. The bill included fines of up to $1,000 for killing animals through starvation or water deprivation, and delivered fines of up to $10,000, depending upon the degree of torture or mutilation delivered upon the victim. The bill died in the Judiciary B committee.
The House Transportation Committee also killed SB 2595, a controversial bill banning texting on a mobile communications device while driving.
The Senate offered plenty of its own committee death last week, killing HB 853, a bill that would have created the "Early Voting Act." Supporters of HB 853 argued that early voting would increase voter turn-out by improving convenience, while Secretary of State Delbert Hosemann, a Republican, argued last year that early voting would create chaos at voting areas.
A Senate bill expanding the definition of domestic abuse still lives in the House. Senate Bill 2923 expands domestic abuse to include incidents of non-fatal strangulation, and includes children of the parties as possible victims of domestic violence. The bill also mandates a 24-hour "cooling-off period" for both involved parties and requires a minimum one-year sentence before a person convicted of aggravated domestic violence is eligible for parole. The bill currently sits in the House Judiciary B Committee.
Also alive is a bill creating a flood and drainage control joint legislative study committee to inspect the effectiveness of flood and drainage control districts throughout the state. House Bill 1548 author Rep. Mary Coleman, D-Jackson, said she's targeting the Rankin-Hinds Pearl River Flood and Drainage Control District, even though the resulting study committee will scrutinize multiple districts in the state. The committee will report its findings and recommendations to the Legislature early in the 2011 seession. Coleman says she is irritated at the Rankin-Hinds District's decision to go with a plan to expand levees over a lake plan for flood control, and questions how much flood control the district is delivering for its cost to taxpayers.
After passing in the House, the bill sits in the Senate Environmental Protection, Conservation and Water Committee, unlike another bill by Sen. Lee Yancey, to put property held by flood and drainage control districts under local zoning laws. Yancey's bill died in the House Appropriations Committee last month.