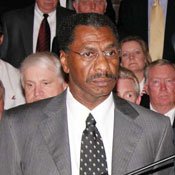 Sen. David Baria, D-Bay St. Louis, said he is disappointed with House members for weakening his open meetings act this week. In its original form, Senate Bill 2373 would have increased fines for violations of public-meetings laws up to $1,000 and placed the fines on individual violators. Currently, state law places a $500 fine on governing bodies for open-meetings law violations.
A bipartisan vote from Senators Merle Flowers, R-Southaven, and Lee Yancey, R-Brandon, and Democratic Sens. Baria and David Blount of Jackson sent the bill out of the Senate Judiciary B Committee. The bill then passed the Senate without any opposition.
The Senate version of the bill also allowed the Ethics Commission or a chancery court to nullify or void a decision concerning state open meeting law violations by governing bodies.
House members watered down the bill when it hit the other side of the Capitol, however. The House Judiciary A Committee removed language allowing the Ethics Commission or chancery courts to nullify decisions invoking fines, and removed personal responsibility for fines for violators.
Baria said the personal responsibility language was the strongest element of the bill encouraging compliance with open-meetings laws.
"The responsibility of the fine being borne by the violators is a critical component of the legislation," Baria said. "If you don't change that portion of the current law so the individual violator is responsible for it, then there's not much of a deterrent effect, which is what we were hoping to achieve."
The House agreed with Baria Thursday, voting 65-to-54 for an amendment restoring the personal responsibility language.
Rep. Ed Blackmon, D-Canton, presided over the House Committee that removed both the personal-responsibility language and an individual's power of nullification, arguing that many political bodies can't afford an attorney to warn them that they are committing open-meetings violations.
The House passed the amended bill with a 97-to-22 vote (with Black Democrats comprising the brunt of opposing votes), but Blackmon held the bill on a motion to reconsider. Blackmon's decision will kill the bill if he refuses to call it back up for a vote by March 11.
The city of Canton, where Blackmon lives and practices law, has been embroiled in several open-meetings law disputes, most recently with a citizens' group called Canton Quality of Life. When Canton resident James Cockrell attempted to videotape a Feb. 10 meeting of the city's Board of Aldermen, Mayor William Truly ordered him to turn his camera off. Truly allowed Cockrell to record audio only. One week later, Truly reversed course and announced a city policy of allowing video recording of city meetings.
Canton's Board of Aldermen also came under scrutiny in 2008 for going into executive session to approve a $5,000 raise for board members and $10,000 raise for then-Mayor Fred Esco.
Previous Comments
ID

156561

Comment

Lawd. Blackmon again. Can the party not replace him? More integrity needed.

Author

jbreland

Date

2010-03-06T13:08:27-06:00