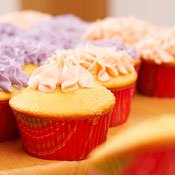 Cupcakes have become all the rage. Once synonymous with children's birthday parties, boutique-style bakeries specializing in gourmet cupcakes are popping up steadily. Today's cupcakes are not your typical dry cupcakes baked in the morning and sitting out all day, or covered in that stiff, give-you-a-sugar-headache icing; they now come in almost every color of rainbow and in a variety of flavors.
On July 4, families all over the country will gather to celebrate our country's independence. For dessert, consider serving your guests festive red, white and blue cupcakes. They will enjoy having their own individual treats, and cupcakes can be easier and a lot less intimidating to decorate than a full cake.
Before you start baking, consider:
Good cupcake pans are shiny and on the heavy side, and will cook six to 12 cupcakes at a time. For convenience, have two pans available so that one will be ready to go into the oven as the other is coming out.
Line your cupcake pan with paper or foil wrappers or spray the individual wells with a nonstick spray. The cupcakes will be much easier to remove in one piece
Bring all ingredients to room temperature. This will ensure your items mix evenly and prevent lumps.
Don't over-mix your batter. If you over-mix, the cupcakes will be chewy instead of moist. If your recipe calls for a hand mixer, and you are using a stand mixer, reduce your mixing time. Stand mixers mix at a faster speed than hand mixers. Consult your owner's manual for mixing times.
Fill your cupcake pan 1/2 to 2/3 full. The batter will expand as it cooks. Completely filling the cup will cause the batter to overflow and make a mess in your oven.
Preheat your oven to the correct temperature before you put your cupcakes in the oven. Invest in a good oven thermometer to make sure your oven is calibrated correctly. If your oven cooks food faster at the rear of the oven, make sure you rotate your cupcake pan halfway through the baking time.
Test for doneness after the minimum cooking time. Cupcakes are done when a toothpick inserted in the center comes out clean. If they aren't finished cooking after the minimum time, place them back in the oven and check again after five minutes.
Cook only one pan of cupcakes at a time and place your cupcake pan in the very center of your oven.
When it comes to decoration, ideas are limitless. Consider using decorative cupcake liners. Insert a black licorice stick into the center so that each cake resembles a firecracker. Sprinkle the top of each cake with coconut colored with red or blue food coloring to imitate fireworks exploding from the center. Try raiding your local party supply store for 4th-of-July-themed decorations, or if you are a talented cake decorator with a lot of patience, try decorating each cupcake with the stars and stripes of the American flag. No doubt your guests will be delighted with the results.
Red, White, and Blue Cupcakes
For the Cupcakes:
2 cups all-purpose flour
1 tablespoon baking powder
1 teaspoon salt
3/4 cup shortening
1-1/2 cups sugar
1-1/2 teaspoons vanilla
1 cup milk
5 egg whites
Red gel food coloring
Blue gel food coloring
In a medium bowl, combine flour, baking powder and salt. In a separate bowl, beat shortening on medium speed of electric mixer about 30 seconds. Add sugar and vanilla and beat until fluffy. Alternate adding dry ingredients and milk to beaten mixture, beating on low speed after each addition.
Divide batter equally into three bowls. Add red gel coloring to one bowl. Add blue gel to the second bowl. Leave the third bowl plain. In a small mixing bowl, beat egg whites until stiff peaks form. Gently fold egg whites and gel coloring into each bowl.
Layer a heaping tablespoonful of each batter into a muffin pan lined with cupcake liners. Each liner should only be half full. Bake at 375 degrees for 18 to 20 minutes or until a toothpick inserted near the center comes out clean. Cool on a wire rack.
Makes 24 cupcakes.
For the Frosting:
1 cup unsalted butter or margarine, room temperature
1/2 cup milk, room temperature
1/4 teaspoon salt
2 teaspoons vanilla
2 pounds confectioners' sugar
Red or blue gel food coloring, optional
Combine all the ingredients in large mixing bowl and mix at slow speed until smooth. If stiffer icing is needed, or if the weather is very warm, add a little extra sugar. Add red or blue food coloring to icing if desired.
Makes enough to frost 24 cupcakes.