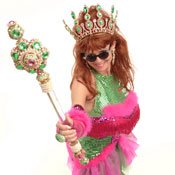 The annual Sweet Potato Queens Homecoming will take place in the Fondren neighborhood of Jackson, not Ridgeland, author and founder Jill Conner Browne told the Jackson Free Press today. Following Mal's St. Paddy's Parade this March, Browne announced that the Queens would end their affiliation with the parade and hold their own parade and fundraising events in the Renaissance at Colony Park shopping center in Ridgeland.
Fondren has grown since the Sweet Potato Queens started marching in Jackson, Browne said.
"Several years ago, Joel Brown of Brown's (Fine Art) gallery got us to come on Thursday," Browne said. "He had a band, and it was big fun, but there was nothing in Fondren. There was Brown's and that was pretty much it. It's perfect now, because it has just exploded. And it's all locally-owned businesses, which is what we really like to support."
While she cautioned that the Queens' homecoming weekend is "still very much in the planning stages," Browne said that she envisioned a neighborhood golf-cart float competition and a children's festival in the green space between Sal & Mookie's pizzeria and Veterans Memorial Stadium. The Fondren Association of Businesses will also move its monthly Fondren After 5 event to the week of the parade.
The move to Fondren also better reflects the Sweet Potato Queens' interest in raising money for Blair E. Batson Children's Hospital, Browne said. The Queens' event will combine with Sal & Mookie's Street Festival, another benefit event for Batson, hosted by Jackson restaurateurs Jeff Good and Dan Blumenthal.
"When I saw Jeff put on the kids' festival in the green space, I thought, 'You know, I need that,'" Browne said. "For us, it's all about raising money for the hospital."
Jackson Chamber of Commerce Chairman Jonathan Lee was relieved at the news.
"We're excited about what it means for Jackson," Lee said. "Every year, thousands of people come for (the Sweet Potato Queens at) the parade. We're just glad that (they) will once again be in Jackson."
Previous Comments
ID

158414

Comment

well good. now this idea is only half stupid instead of completely stupid. we loved the SPQ's at St. Paddy's Day! go back!

Author

jp!

Date

2010-06-29T13:53:20-06:00
ID

158416

Comment

Thanks for this, guys! We are beyond excited about it. One tiny note of clarification: it was not ever a "Renaissance" deal--we had discussions with several different areas in Ridgeland and we weren't able to negotiate all the stuff for the kids that we wanted to do. The parade part is really the least of what we do over the 4-day weekend--so just finding a street for us to walk down was not our goal. Fondren is a perfect fit and the Queens are gonna LOVE this.

Author

JILLCONNERBROWNE

Date

2010-06-29T14:04:10-06:00
ID

158417

Comment

Welcome back, Jill. ;-) Sounds like I could watch his one from my office window if I wanted to (don't, of course). Yay, Batson!

Author

DonnaLadd

Date

2010-06-29T14:06:15-06:00
ID

158418

Comment

We may mob dance in your parking lot!

Author

JILLCONNERBROWNE

Date

2010-06-29T14:10:11-06:00
ID

158420

Comment

This could be good. It makes more sense than Ridgeland for sure. Though I am a bit worried about it combining with and overwhelming Sal & Mookie's festival.

Author

Pilgrim

Date

2010-06-29T14:17:37-06:00
ID

158421

Comment

Works for me, Jill!

Author

DonnaLadd

Date

2010-06-29T14:22:22-06:00