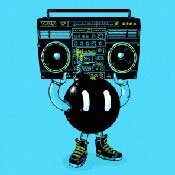 Talking to George Patterson and Bo Trebotich, one can't help but wonder if becoming a deejay only happens serendipitously.
"I was a part of this little group in high school, and one night, we had an event, and the deejay didn't show up," Patterson recalls.
For anyone else, this could have meant the end of a party, but Patterson saw an opportunity. "I went to the house and told my parents I was just coming into the house to grab some stuff, so I grabbed the home entertainment system and made two CD players from a front loading deck … and the CD Walkman," Patterson says.
A few songs and spliced wires later, Patterson had transformed himself into DJ George Chuck.
Bo Trebotich's path is eerily similar. What started as a job working for a friend who owned a club turned into something much bigger. "I was helping him out doing security and bartending, and his deejay got sick, and he ends up calling me up and saying, 'Hey, look, I need you to fill in,'" Trebotich explains.
From there, he got a break to play Cadillac Don's bachelor party and a week later, he was signed to Yea Yea Man Records. Trebotich, or DJ Cadillac as the Electric Cowboy folks know him, has gone on from there to garner the JFP's "Best Club DJ" award for the past three years.
Phillip Rollins, DJ Young Venom, explains: "Anybody can be a deejay, but not everybody can be a great deejay."
And, in Jackson, being great presents a complicated challenge. Nicholas Mejia explains that Jackson is difficult because being a club deejay who introduces new music is not always a good thing.
"I would play brand new music from a genre and an artist that people would normally like, but because the song wasn't in heavy rotation on the radio, people would clear the room the second a new song came on," he says. "Three months later, people are asking you for the same song because it's now on the radio. So Jackson—hate to say it—but Jackson has a bit of a follower mentality."
Patterson echoes his sentiments: "I wish that I could have a crowd that just has an ear for music no matter what the music is; they would let themselves be moved by the music and not just sit around waiting for 'Single Ladies' to come on or the next Rihanna song to come on."
But in the end, all agree they're here to entertain.
"… f you're a deejay for the people, you've got to play what the patrons want to hear," Patterson says. "Because otherwise, you're fired, and you don't have any gigs and nobody is booking you."
DJ Name: DJ Cadillac
Government Name: Bo Trebotich
Age: 28
Music: Hip-Hop and Rock
Spinning for: Five years
In Heavy Rotation: Uhhhh ...
From: Jackson
Where he Spins: Electric Cowboy (Wednesday, Thursday, Friday and Saturday)
DJ Name: Ron Ron
Government Name: Ronnie Steverson
Age: 53
Music: Country, Boogie Music, R&B, Rap Music, Blues, Country and whatever anybody wants to hear.
Spinning for: Better than 20 years now
In Heavy Rotation: Most requested is "The Cupid Shuffle"
From: Jackson
Where he spins: Pop's Saloon (Thursday, Friday and Saturday)
DJ Name: DJ George Chuck
Government Name: George Patterson
Age: 28
Music: Old-school R&B and Hip-Hop
Spinning for: 11 Years
From: Mobile, Ala.
In Heavy Rotation: "Excellent Taste" by Tricky featuring Cassius
Where he Spins: Last Call (Mondays from 6-10 p.m.)
DJ Name: DJ Hova
Real Name: Java Chapman
Age: 26
Music: Everything, but specifically a lot of Hip-Hop, R&B and House
Spinning for: Eight years
From: Jackson
In Heavy Rotation: "OMG" by Usher
Where he Spins: Dreamz Jxn (Fridays from 9 p.m.-2 a.m.)
DJ Name: Mr. Nick
Government Name: Nicholas Mejia
Age: 26
Music: Soul and Hip-Hop
Spinning for: Professionally for five; … eight or nine, if you count sitting at home
From: Miami, Fla.
In Heavy Rotation: "Exhibit C" by Jay Electronica
Where he Spins: Ole Tavern on George Street (Thursdays)
DJ Name: DJ Young Venom
Government Name: Phillip Rollins
Age: 25
Music: Soul, Hip-Hop, House and a little Electronica
Spinning for: Six years
From: Ridgeland
In Heavy Rotation: "For Your Smile" by TiRon
Where he Spins: 97.7 WRBJ Sundays, noon-3 p.m., "The True Soul Café"
More like this story