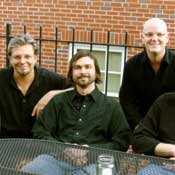 Fans of jam bands will want to support the return of Colonel Bruce Hampton & the Quark Alliance to Martin's Friday night. The Colonel has been laying down an eclectic fusion of bluegrass, latin-jazz jam rock since 1963. You can test drive the band's tunes at colbruce.com. If you dig the North Mississippi Hill-Country Southern Roots rock-and-blues scene, be sure to check out the 5th Annual North Mississippi Hill Country Picnic this weekend at Potts Camp, 40 minutes north of Oxford off Highway 349. Camping is encouraged, so you can attend all the shows and music workshops Friday and Saturday, noon to 1 a.m. This year's line-up includes Jimbo Mathus, Burnside Exploration, Alvin Youngblood Hart, Blue Mountain, T-Model Ford, Kenny Brown and many others. The full weekend pass with camping and cooler fee is $65; $25 for just music each day. Go to http://www.jnmshillcountrypicnic.com for more info.
It's too bad you won't be able to catch all the great options for Saturday night. But if you can do the cover charges, it's a good night to bop around downtown. Hal & Mal's is moving onto the street with alt-country favorites Drive By Truckers. Easy Company and Horse Trailer will kick things off at 7 p.m. Tickets are available at the door or at Be-Bop for those 18 and older. Across the street at Martin's is the jazz punk of The Dead Kenny G's and a block south is the Paul Thorn Band with Hank Overkill at Fire. Classic-rock Philadelphia favorites Marah return to Ole Tavern Saturday night. There will also be an all-ages show at the North Midtown Arts Center on Millsaps Avenue Saturday night with deejays DJ Ripley, Hot & Lonely, DJ Scrap Dirty and Mr. Nick, 8 p.m. $5.
Hal & Mal's brings another big show to town next Friday, July 2, with cosmic jamgrass, roots rockers The Mosier Brothers Band, 10 p.m. $10 at the door. Jeff and Johnny Mosier are founding members of Blueground Undergrass and are tight on the jam-band scene with Widespread and Phish and their genre-defying blend of variables combining psychedelic bluegrass, alt-country and Americana roots-rock jams. Speaking of jam bands, tickets are on sale now at Ticketmaster for Blues Traveler at the Beau Rivage in Biloxi, Friday, Nov. 12. If you want to go, don't wait to buy tickets.
Also worthy of putting on your calendar is Solar Porch at Martin's next Friday, July 2, 10 p.m. Solar Porch is lead by Marlo Dorrough, son of Duff Dorrough and southern-rock favorites Electric Mudd's new front man David Burchfield. If you miss this one, Electric Mudd will be back at Martin's July 16.
Support the annual Zoo Blues at the Jackson Zoo next Saturday, July 3, 3-8 p.m. $35. Performers include Grady Champion, Mel Waiters, Kenny Wayne, Reggie P, Andre Lee, Dexter Allen and Noo Noo. Go to http://www.jacksonzoo.org/events.html for details. And cheers to three-day weekends to enjoy the 4th of July.
Itching for a road trip? At press time, $77 tickets are still available for Sting with the Royal Philharmonic Orchestra this Saturday at the UNO Lakefront Arena in New Orleans. Edward Sharpe & the Magnetic Zeros are at Minglewood Hall in Memphis, Thursday, July 8. Mates of State and She & Him are in Birmingham, Saturday, July 10. Robert Plant is at the Orpheum in Memphis, Tuesday, July 13. The Offspring with 311 will be at Mud Island in Memphis, Sunday, July 18. Deer Tick and Dead Confederate will be at Proud Larry's in Oxford, Tuesday, Aug. 3.