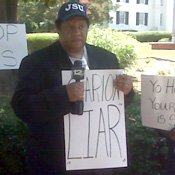 Ward 3 Councilman Kenneth Stokes fired back at the Clarion-Ledger this morning for what he considered inaccurate reporting on his poor attendance at city council meetings and his taxpayer-funded travel.
"It's good that we have these fights," Stokes told the JFP. "That's the way it ought to be, but they should tell the whole story."
The Clarion-Ledger reported this morning that Stokes missed 28 of the 55 full meetings the council has had since last July--more than half the full meetings council members scheduled. His poor attendance record surpasses all other council members, who averaged 10 or fewer no-shows.
Stokes argued, however, that "full" meetings do not count as "official" council meetings, and says state law only binds him to attend the official meetings the council has twice a month--which excludes bi-monthly work sessions, zoning meetings and other special meetings.
"I don't miss council meetings," Stokes said.
Stokes said he disapproves of the council's decision a few years ago to decrease weekly council meetings to bi-weekly meetings, which created the need for the council to meet twice a month to approve the city's weekly of payroll and claims. He said he would be happy to attend regular council meetings if they return to a weekly schedule.
"You didn't even have work sessions when we had (Mayor) Dale Danks. You only had those after we had a black mayor," Stokes said. "And why do you need work sessions? Are you saying people can't understand the agenda the first time around? Ain't nobody up there so dumb they can't be ready for the council meeting (by Tuesday). If the law says that four council members have to call a special meeting, even for claims and payroll, why don't you list the four council members who call the special meeting? If you have four council members calling a special meeting then those four council members need to be the ones to be there. Not a special meeting for everybody."
Stokes was a staunch ally of former Mayor Frank Melton, and seeks to rename a portion of Pascagoula Street after Melton. When Melton proposed to remove long-time Parks and Recreation director Ramie Ford and replace him with Charles Melvin, Stokes was present at the 2007 the confirmation meeting voting in favor of Melvin, although the confirmation did not receive enough votes to pass. Stokes also said he attends his own Planning Committee meetings, which he chairs. Those meetings include an October Planning Committee meeting Stokes called to rename the library on Northside Drive after former Jackson Advocate Publisher Charles Tisdale and a May planning meeting to rename a portion of Metro Parkway after Dr. Robert Smith.
Stokes also struck back on the Clarion-Ledger's claims that he did not attend taxpayer-funded meetings as a representative of the city.
"They left everything out. They lied. They know I was there," Stokes said, holding a folder containing stationary and registration cards for multiple city-financed excursions, including the 2010 National League of Cities meeting and the American Association of State Highway Transportation Officials Subcommittee on Construction last August--The Clarion-Ledger questioned Stoke's attendance at that meeting. "The only way you can get these documents is you have to have to go and present a picture ID."
Last week, the Clarion-Ledger wrote another article questioning Stokes' $2,745 trip to the American Association of State Highway Transportation Officials Subcommittee on Construction last August. Stokes said the article makes it look like he did not attend the conference at all and wasted taxpayer money.
"I took notes and everything," the councilman countered, presenting a notepad containing three short sentences he says he scribbled during the highly technical meeting.
On Monday, Stokes and a small group of citizens held a press conference and protest outside the Clarion-Ledger building downtown in response to the article about Stokes' travel expenses.
Perry Robinson, president of the Georgetown Neighborhood Association, says Ward 3 is not getting its money's worth out of Stokes.
"It's a disgrace to the voters of the city of Jackson and the people of Ward 3," Perry said, explaining that Stokes never attends the association's meetings. "He attended meetings way back in 1991 and 1992, but he hasn't come since. He has this small group of people who can't think for themselves and they re-elect him every year. The economic and education standards for Ward 3 are low, and people can't think for themselves, and he takes advantage of that."
Stokes, whose sole income is the $25,000 he generates from his council seat, said his office is the Ward 3 community, which he says needs somebody like him looking out for it.
Previous Comments
ID

158118

Comment

I took note of this rather profound statement from Stokes: "Ain't nobody up there so dumb they can't be ready for the council meeting."

Author

jamesparker

Date

2010-06-09T16:54:39-06:00
ID

158122

Comment

Kenny Stokes is the very face (figuratively) of why a lot of people choose to live in the 'burbs as opposed to Jackson proper.

Author

bill_jackson

Date

2010-06-09T18:27:44-06:00
ID

158132

Comment

so, by stokes' logic, he won't attend meetings every week because they went away from "official" weekly meetings? this guy is a complete joke and perry robinson's critique of him hit it right on the head. even that picture of him above looks ridiculous. the fact is, by his own admission, he doesn't attend called meetings unless he calls them, which means he's missing a lot of meetings where the city's business is being done. eveytime he opens his mouth, i feel sorry for the people of ward 3, until i remember that they are the ones that keep voting this clown back into office...

Author

eyerah

Date

2010-06-10T08:22:17-06:00
ID

158136

Comment

Kenny Stokes should use every opportunity provided to address issues about his Ward. His fight and disregard for Johnson's work sessions are only lame excuses because he does not like investigatory details based on facts. When Kenny speaks, he wants Jackson to listen and then follow his lead which is to do NOTHING but award "Proclamations" for people he is trying to impress. He is OBSESSED with the idea of naming streets, buildings, ect after melton. WHY?? He could better spend his time working with the Council to pave the streets in his Ward and to work on the criminal activity that he says consumes his Ward. Just thinking.

Author

justjess

Date

2010-06-10T09:25:59-06:00
ID

158137

Comment

Apparently the voters of Ward 3 are enamored with his endless proclamations which tie up so much time at Council meetings. The term "shiny objects" comes to mind.

Author

bill_jackson

Date

2010-06-10T09:32:06-06:00
ID

158138

Comment

*YAWN* Why bother reporting this? Stokes knows he is bulletproof when it comes to reelection, and this will all be dismissed and forgotten by the voters in his ward anyway. After 20+ years in office, he knows exactly how to play to his constituents by blaming the media for *daring* to hold him accountable for his traveling and spending.

Author

Jeff Lucas

Date

2010-06-10T10:14:02-06:00
ID

158143

Comment

I have a friend that wants me to steal one of those "Happy Valentine's Day from Kenny Stokes" signs that he puts up every year. Why she wants one I have no idea. Perhaps for comedic value?

Author

bill_jackson

Date

2010-06-10T12:31:26-06:00
ID

158151

Comment

If my good buddy Kenneth Stokes said he went to those conferences you can bet your last dollar he did. And if he missed a council meeting or several he was attending to more pressing business on the city's behalf. It is bull schittery to claim anyone is leaving Jackson because of Stokes, and those leaving needs to leave and stay gone, but they need to make sure they don't come north to Ridgeland. We don't want them.

Author

Walt

Date

2010-06-10T21:54:46-06:00
ID

158161

Comment

hey those signs are a hot commodity. Bill if you get one for your friend, get one for me too.

Author

Queen601

Date

2010-06-11T12:25:52-06:00
ID

158184

Comment

The latest from Stokes is that he is asking for lawyer fees to file a law suit against the Clarion Ledger. I'm not saying that the CL doesn't deserve to be sued; however, I want to pass on this one. Shouldn't Stokes' trips be approved by the Council? Does anyone know if he had Council approval to attend the Engineer"s Convention or whatever the occasion was?

Author

justjess

Date

2010-06-14T11:06:55-06:00