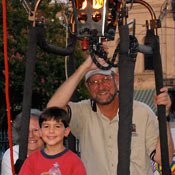 Putting a balloon a few hundred feet in the air is not an easy task, but for balloonist Tim Slattery it's just like any other hobby--one he compares to sailing or golfing.
Slattery, 54, a native of South Carolina who lives in Jackson, is volunteering and piloting his balloon at the 24th annual Mississippi Championship Hot Air Balloon Festival in Canton this weekend.
As president of the Mississippi Balloon Association, he is one of the event's organizers and helps pilots navigate during the event. Slattery says he doesn't consider his role work, because he enjoys the people he meets.
"You get great friendships with your crew people, and it's a challenge to try to interpret the wind," he says.
About 10 years ago, Slattery met a friend who had a hot air balloon. He arranged a trip for himself and his wife, Melanie, who had always wanted to fly in one.
After one flight, Slattery was hooked. He attended flight school in Albuquerque, N.M., where he received his pilot's license in 2003. Melanie also has her pilot's license, and the couple spends most of their free time flying the balloon they own.
Slattery flies an average of 40 to 50 hours per year, and he mainly flies in the Madison and Canton areas. Occasionally, he and Melanie give friends in the community rides, but Slattery says the best way to get a ride is to help somebody who has a balloon.
"Help them crew several times, and you might wind up getting a ride," he says.
Slattery says it takes a crew of about four to five people to put a balloon in the air. One person stabilizes the balloon while it's on the ground, and another operates the balloon's fan. A ground crew is also necessary to help navigate over radio and help the balloon land safely.
"The Mississippi Championship Hot Air Balloon Fest" is at the Canton Multipurpose Center through Sunday. The free four-day event includes balloon races, a chance to see the balloons up close, balloon glows, a meet-and-greet with the pilots, a Special Shape Fiesta, skydivers, food, fireworks and entertainment. Tonight's event includes the Ridgeland Balloon Glow event at Northpark Mall at 6 p.m. The event also features the annual golf-ball drop fundraiser for The Good Samaritan Center on Saturday. Visit the event's website for a complete schedule of events and purchase tickets for the golf-ball drop here.