Thursday, January 28, 2010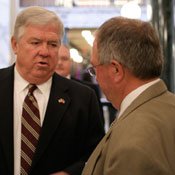 The biggest fight in the Mississippi Legislature still centered on money in week 3 of the 2010 session. The House refused to consider a Senate bill giving Gov. Haley Barbour the power to selectively cut 10 percent of certain state agency budgets while sparing other agencies—namely the Department of Corrections. So Barbour responded with a more constitutional blanket cut.
"I asked the legislative budget committee to change state law under which I am required to make budget cuts, to give me more flexibility. ... The House chose not to do that and proposed spending $110 million more after we've spent $115 million," he said during his State-of-the-State address. "To comply with state law, I am now ordering cuts that will bring the total cuts (this year) up to 8.193 percent for all departments and agencies, except for a small handful that are exempt."
Nobody's arguing that the cuts aren't big and nasty, but few people outside the Department of Corrections are saying the situation would have been better if Barbour had earned the ability to selectively cut agencies by 10 percent. If Barbour had his way, the Mississippi Adequate Education Program, for example, would have suffered a full 10 percent cut. But due to the House's resistance, MAEP now only suffers an 8.2 percent cut. Similarly, the Department of Public Health, which would have lost 9 percent of its total budget under Barbour's budget proposal, suffers an 8.2 percent cut under the current plan.
The House passed HB 392, which would require—as Barbour claimed—to tap the rainy-day fund to fill budget holes, arguing that the bill would prevent severe layoffs of state employees. House members voted along party lines to pass the bill, with Republicans voting against it, after first trying to insert amendments giving the governor his requested 10 percent cutting authority. That amendment failed by a party-line vote of 69 to 51.
The House also approved HB 965, which could help preserve some mental-health facilities that Barbour has targeted for closure as a money-saving measure. The House describes the bill as "giving state mental-health leaders more flexibility in financing their operations."
The House bill specifically transfers money from the budgets of certain individual facilities of the Department of Mental Health to the department's service budget, to avoid closing the mental-health centers. House members say closing the centers could threaten public safety by releasing mentally ill people into the streets. Other mental-health advocates predict that patients extruded from the closing centers could end up occupying prisons beds, even though they are not criminals.
Rep. John Mayo, D-Clarksdale, embraced the state's need to use more home-care nursing in place of institutionalized nursing homes for patients who qualify.
"We learned that there is a ... 17-year waiting list for persons with intellectual disabilities awaiting a bed in an intermediate-care nursing home," Mayo wrote on his blog. "We also learned that there is a 7-to-8-year waiting list for persons who are awaiting services for home- and community-based health-care services. ... In addition; we learned the cost of placing a mentally retarded person into an intermediate-care nursing home is about $95,000 a year vs. a cost of about $26,000 a year for (home- or community-based services). Everyone in a nursing home would not be able to take part in the HCBS, but we were also told there are a significant number of people in those nursing homes that could be."
The House Education Committee approved HB 837, which requires school boards to adopt some form of sex-education program, be it abstinence-only or abstinence plus sex-education curriculum. The state does not currently mandate school districts teach any form of sex education, even though Mississippi is one of the states with the highest incidence of teen pregnancy.
The House also passed HB 884, which authorizes counties and municipalities "to establish a local organization for emergency management."
A brief bickering match exploded on the House floor last Thursday over House Bill 412, which would have included compulsive gambling as legal grounds for divorce. Some legislators argued that grounds for divorce should be limited to things such as fooling around on your spouse, while others questioned if farming counted as "gambling." The bill failed with a 75-to-40 vote against.
The Senate passed SB 2775 last week, which changes laws regarding state employees. The bill, held on a motion to reconsider at the last minute, removes state employees from the protections of the State Personnel Board for a period of two years. The bill also makes the operation of a state-owned motor vehicle without a valid Mississippi driver's license by an employee of any department grounds for dismissal, and it removes the possibility of promotion for any male state employee between the age of 18 and 26 who has not registered with selective service.
The House will not likely pass the bill, with many Democrats in opposition to making the state's workers easier to fire.
The Senate also passed a bill imposing harsher penalties on motorists illegally passing stopped school buses. The bill increases the penalty to fines of up to $5,000 and five years in prison, and resulted from the death of 5-year-old Laurel resident Nathan Key, killed when a car hit him as he was exiting a school bus.