Wednesday, January 27, 2010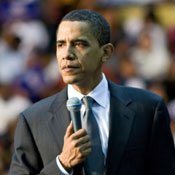 In a year when Mississippi's K-12 educational system faces potentially crippling budget cuts, a federal grant program promising up to $175 million has offered a bit of hope to state education advocates. But the Mississippi Department of Education has frustrated some of those advocates by forgoing an early application deadline that many believe would have improved the state's chances.
Originally passed as part of the federal stimulus package, "Race to the Top" is a $4.35 billion initiative that rewards states for education reforms and seeks to spur further innovation through competition for federal dollars.
The first of two deadlines for applications passed Jan. 19. MDE announced Dec. 18 that it would apply in time for the second deadline, June 1, noting in a press release that "states … are not at a competitive disadvantage when applying in either phase."
States that applied prior to the first deadline will receive feedback on their applications from the U.S. Department of Education, however, which they can use to improve their chances in the second round if denied in the first. Forty states took advantage of that benefit and submitted first-round applications.
"I think it's unfortunate we did not apply (for Round 1), because the feedback alone would've strengthened our position for Round 2," Mississippi NAACP President Derrick Johnson said.
Along with 37 other education and business leaders, Johnson serves on an advisory committee for the state's "Race to the Top" application. The committee includes Tougaloo College President Beverly Hogan; Mississippi Parents Campaign Executive Director Nancy Loome; Teach for America's executive director for the Mississippi Delta, Ron Nurnberg; and representatives from Entergy, Bancorp South, State Farm and AT&T.
MDE Deputy Superintendent Martez Hill said that the later deadline will give the department more time to earn the support of individual school districts, which would boost its application's prospects.
"We're going to have to get each school district's superintendent and board chair to sign off on a memo of understanding saying that they ... will abide by the 'Race to the Top' plan," Hill said. "Before we get local districts to sign off, we want to get their buy-in."
Hill acknowledged that the department's deliberate pace in applying was in part due to changes in leadership. Former State Superintendent Hank Bounds left to become the state's higher education commissioner in June 2009, and his permanent replacement, Tom Burnham, did not take over until this month. The state's application had to reflect the new superintendent's priorities, Hill said.
Whether or not the delay hurts Mississippi's chances, the state certainly lost an edge to its neighbors when it failed to win a $250,000 supporting grant from the Bill and Melinda Gates Foundation to fund the development of its "Race to the Top" application. After initially targeting 15 states for grants, in September, the Gates Foundation widened its assistance to any of the remaining 35 states that met eight reform criteria based on the "Race to the Top" application. Tennessee, Louisiana and Arkansas were among the original 15 states receiving grants, and Alabama was among the 10 selected in the second round.
Louisiana, especially, has devoted considerable resources to its "Race to the Top" bid, devoting two staffers at the state Department of Education exclusively to preparing the state's application. That effort may be necessary to prepare a winning proposal. In fact, on Aug. 11, 2009, Education Week reported that it would take states 642 hours to put together a "Race to the Top" application. That's the equivalent of two staff members working full-time for two months.
MDE is adding manpower to its own application effort. Feb. 1, 2010, Dr. Lynn House will join MDE as a deputy superintendent, and "Race to the Top" will be among her first responsibilities.
More than resources, though, actual policies will determine the success of Mississippi's application. Federal officials will evaluate applications on a massive, 500-point rubric based on four basic criteria: aligning state standards with national and international ones; training teachers and school leaders; tracking and using student performance data; and turning around under-performing schools.
Mississippi has the potential to impress in most of those categories. The state has no legal barrier to evaluating teachers based on student performance, a particularly valuable criterion.
While it currently has no charter school law, state legislators appear poised to at least re-establish the old law, which expired last year, if they do not pass a new, more charter-friendly version.
Hill said that the state's Children First Act, passed last year, will also figure heavily in the state's application. The law gives MDE the power to replace superintendents and school boards in consistently under-performing school districts.
Rachel Hicks, an advisory committee member, still hopes to see more innovation in state policy. Hicks, who is executive director and founder of non-profit organization Mississippi First, believes that Race to the Top demands more than the small measures the state has adopted thus far.
"Everything that the U.S. Department of Education has signaled is that they are looking for something that breaks the mold on education policy in the nation," Hicks said.
"They are not looking for the same-old, same-old; they are not looking for states to expand existing, run-of-the-mill programs. They are looking for something radically new and different. And I am afraid that many people do not grasp that."