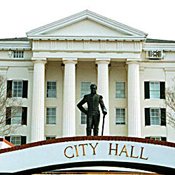 Through Jan. 25
The World Through Lou's Lens at Arts Center of Mississippi (201 E. Pascagoula St.). An exhibit showcasing 80 years of Lou Shornick's photography along with pieces donated by various local artists such as Anthony DiFatta, Tony Davenport and Bill Wilson. All proceeds from the sale of the artwork will go to the Kids Fund established at the Community Foundation of Greater Jackson to support the launch of Mississippi Music N' Motion, a new music education program for underprivileged students. Call 601-960-1557.
Monday, Jan. 25
5:30 p.m., Farish Entertainment District Update at Alamo Theatre (333 N. Farish St.). Brad Franklin of Watkins Partners will give an update on new businesses coming to the district. Call 601-291-7381.
6 p.m., Ridgeland Chamber Annual Awards Banquet at Hilton Jackson (1001 E. County Line Road). The Ridgeland Chamber of Commerce hosts its yearly banquet. Reception at 6 p.m.; dinner, awards and concert by country singer John Anderson at 7 p.m. $60; call 601-991-9996.
Tuesday, Jan. 26
8:45 a.m., 5th Annual Festival and Event Coordinators Workshop at McComb Sports Park (701 S. Magnolia St., McComb). The goal is to show festival and event coordinators where to look for the right partnerships, sponsorships, programming and support. Free, reservation required; call 601-359-6030.
Noon, Mississippi Municipal League (MML) Mid-Winter Legislative Conference at Hilton Jackson (1001 E. County Line Road). The conference gives MML members and others an opportunity to network with members of the state Legislature during the session. Registration is required. The league will meet from noon-6 p.m. on Jan. 26, 7:30 a.m.-7 p.m. on Jan. 27 and 8:30-11:30 a.m. on Jan. 28. $150; call 601-353-5854.
6 p.m., Jackson City Council Meeting at Jackson City Hall (200 S. President St.). The Jackson City Council holds its regular meeting, open to the public. Free; call 601-960-1033.
6 p.m., "Selling You in the Interview" Seminar at Ridgeland Library (397 Highway 51, Ridgeland). Angela Y. Carson gives tips on how to have a successful interview such as how to answer difficult questions and the importance of non-verbal communication. Free; call 601-856-4536.
6:30 p.m., Carbon Footprint Reduction Workshop: Consumerism and Food/Diet at Rainbow Green Services (2807 Old Canton Rd.). Learn ways to reduce, reuse and recycle. Also, learn about permaculture, local food and going organic. $15; call 601-987-0002 in advance.
6:30 p.m.,Jackson Audubon Society Monthly Chapter Meeting at Eudora Welty Library (300 N. State St.). The topic is the use of LeFleur's Bluff State Park. Open to the public. Free; call 601-956-7444.
7 p.m., Clinton Community Nature Center Annual Membership/Board Meeting at Clinton Community Nature Center (617 Dunton Road, Clinton). The meeting will be in Price Hall. Open to the public. Call 601-926-1104.
Wednesday, Jan. 27
4 p.m., Mississippi Education Rally at Mississippi State Capitol (400 High St.). Sponsored by the Mississippi Statewide Consortium for the Improvement of Education (M.S.C.I.E.), the event is in support of fully funding education through federal stimulus funds to the state. Free; call 601-264-8005 or 601-307-4060.
10 a.m.Senior Aerobics Class at Jackson Medical Mall (350 W. Woodrow Wilson Ave.), at center stage. Seniors have an opportunity to get in shape and have fun while doing it. Sponsored by Tougaloo College. Free; call 601-982-8467.
11:45 a.m., "Cold Feet and Painful Legs: Peripheral Vascular Disease" at Baptist Health Systems Madison Campus (401 Baptist Drive, Madison). If you experience sharp pain in your calves when you walk that goes away when you rest, you could have a condition called peripheral vascular disease (PVD). Join vascular surgeon W. Stewart Horsley, M.D., to learn how it's diagnosed and treated. In the Community Room; registration required. Free; call 601-948-6262 or 1-800-948-6262.
Noon, "History Is Lunch" at William F. Winter Archives and History Building (200 North St.). USM history professor Deanne Nuwer talks about the scourge of yellow fever in Mississippi. Bring your own lunch; coffee/water provided. Free; call 601-576-6850.
4 p.m., Jackson/Hinds Library System Board of Trustees Meeting at Eudora Welty Library (300 N. State St.). The trustees will discuss matters concerning the local library system. Free; call 601-968-5825.
Thursday, Jan. 28
8:30 a.m., Management Workshop at Holiday Inn (110 Bass Pro Drive, Pearl). Penny Altman of HSC Seminars in Scottsdale, Ariz., will teach on how to effectively resolve difficult problems in face-to-face meetings with employees, work teams and managers. Designed for leaders in non-profit organizations. Lunch on your own from noon-1 p.m. A certificate of attendance for 5.5 hours will be provided. $136 (includes training materials); call 602-674-0911.
8:45 a.m., 5th Annual Festival and Event Coordinators Workshop at Link Centre (1800 W. Main St., Tupelo). The goal is to show festival and event coordinators where to look for the right partnerships, sponsorships, programming and support. Free, reservation required; call 601-359-6030.
11:30 a.m., Like Minds THINK Differently Empowerment Seminar at Mississippi e-Center @ JSU (1230 Raymond Road). Motivational speaker and consultant Desire' Hunter gives tips on reaching your goals in 2010. Lunch will be provided. Register by Jan. 25 at desirehunter.com or by calling 601-965-0345. $10 advance, $15 at the door; call 601-454-4171.
1 p.m., 6th Annual Great Southern Showcase at New Horizon Christian School (3565 Wheatley Street). This is an opportunity to watch some of the most talented and highly ranked basketball players in the country. Sponsored by the National Post Graduate Athletic Association (NPGAA). Games start at 1 p.m. daily through Jan. 30. $7, $5 students under 18; call 601-238-0849.
3 p.m., Naturalization Workshop at Mississippi Immigrants' Rights Alliance (MIRA) (612 N. State St.). MIRA licensed attorneys will assist applicants in preparing their N-400 applications for submission to the United States Citizenship and Immigration Services. The workshop is only for individuals who have been lawful permanent residents for the last five years or three years if married to and living with a United States citizen. $150 (includes MIRA membership), $675 N-400 filing fee; call 601-354-9355.
5:30 p.m., Senior Care Education Program at Trace Pointe (501 E Northside Drive, Clinton), in the conference area; entrance at the Baptist Adult Day Care Center. Obtain resources for caring for loved ones suffering from dementia or other aging-related diseases. Refreshments will be served. Free; call 601-926-1224.
6 p.m., Winter Wine Dinner at Huntington's Grille (1001 E. County Line Road). Enjoy a four-course wine dinner prepared by Chef Timothy Sims. Reservations are required. $45; call 601-957-1515.
6 p.m.,Precinct 4 COPS Meeting at Redeemer Church (640 E. Northside Drive). These monthly meetings are forums designed to help resolve community issues or problems, from crime to potholes. Call 601-960-0004.
6:30 p.m., Greater Starkville Development Partnership Annual Banquet at Mississippi State University (2 Hardy Blvd., Starkville), in the Foster Ballroom at the Colvard Student Union. Ask about becoming a bronze, silver, gold or platinum sponsor. Reservations are required. $35; call 662-323-3322.
Friday, Jan. 29
Noon, "High Noon" Brown Bag Luncheon at B.B. King Museum and Delta Interpretive Center (400 Second St., Indianola). Leo Spencer Turnipseed, founder and executive director of Clean BioFuels Coalition of Mississippi, will discuss alternative fuel sources. Call 662-887-9539.
7:30 p.m., Lipizzaner Stallions at Jackson Convention Complex (105 E. Pascagoula St.). The horses will perform in their 40th anniversary tour. Performances on Jan. 29 at 7:30 p.m. and Jan. 30 at 2 p.m. and 7:30 p.m. Tickets available at Southern Feed & Supply or tickets.com. $20.50-$22.50 plus service charge; call 601-960-2321 or 800-882-8258.
Saturday, Jan. 30
7 a.m., Diabetes Foundation of Mississippi's 31st Annual Super Conference at Marriott Hotel (200 E. Amite St.). The patient education event is for individuals with diabetes and their family, friends and health care providers. Speakers include Dr. Ann Albright, Chef Luis Bruno and Dr. Herman Taylor. Group discounts are available. Cost includes all sessions and lunch. Space is limited. $25, $40 for two, $10 children 12 and under; call 601-957-7878 or 877-DFM-CURE.
9 a.m., Homebuyers Workshop at McComb Public Library (1022 Virginia Ave., McComb). Sponsored by Mississippi Home of Your Own (HOYO). HOYO empowers people with disabilities to become homeowners through grants and support systems. Residents with and without disabilities in Pike County and surrounding counties are invited to attend. Free; call 888-671-0051.
9:30 a.m., 11:30 a.m., 2 p.m. and 4:30 p.m., "Between the Lions" Live Puppet Show at Mississippi Museum of Art (380 S. Lamar St.). The show will be performed live in the Grand Hall. After the show, have your picture taken with the puppets for $10 and go through the exhibition "Jim Henson's Fantastic World." $15; call 601-960-1515.
10 a.m., Youth Leadership Training Seminar at Operation Shoestring (1711 Bailey Ave.). The topic will be smoking and marijuana. Parents can enroll their children if they are 12-18 years old. Free; call 601-353-3663 or 601-957-2969.
10 a.m., EITC Awareness Day and Keep the Change Fair at Jackson Medical Mall (350 W. Woodrow Wilson Ave.). Free tax preparation will be available to those with households earnings under $49,000. Receive information on education, banking, health and government assistance programs. Sponsored by United Way and the Jackson Medical Mall Foundation. Free; call 601-965-1354.
1 p.m., "Creating New Legacies Inspired by the Dream" at Tougaloo College (500 W. County Line Road, Tougaloo), in Holmes Hall Auditorium. The program will encourage people of all races to face history, share stories, make connections, heal trauma and take action that leads to community and national restoration. Call 312-927-7555.
Through Feb. 21
Dixie National Rodeo and Livestock Show at Mississippi State Fairgrounds (1207 Mississippi St). The month-long event includes shows featuring horses and other farm animals and a rodeo from Feb. 11-17. $16, $20, $24 for rodeo, free livestock shows; call 601-961-4000.
Through May 26
Public Policy Toastmasters Club 8689 Meeting at Jackson State University (1400 Lynch St.). The group meets Wednesdays at 5:30 p.m. in the Sampson Library auditorium on the second floor. Improve your communication skills and become a better speaker and leader. Membership required. Call for details on membership dues; call 601-918-8523.