Thursday, January 21, 2010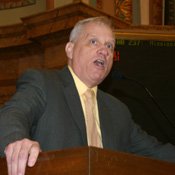 School districts would have to choose between implementing an abstinence-only or an abstinence-plus sex education curriculum by June 2011 under a bill the House Education Committee passed Wednesday.
Co-author Rep. John Mayo, D-Clarksdale, said H.B. 837 is a response to a recent teen pregnancy survey by the Department of Education. Of the 121 Mississippi public school districts surveyed, 91 did not have a sex-education policy, or did not know if their district even had a policy.
"We want to give school districts the choice to teach that abstinence is the only way to prevent pregnancy, but also permission to teach about birth control," Mayo told the committee.
Mayo said that studies comparing abstinence-only education and abstinence-plus are inconclusive on their effectiveness, and says this bill gives school districts the power to decide what curriculum is best for them.
The bill also requires a Teen Pregnancy Monitoring Task Force to study and make recommendations for future policy based on reviewing each district's teen pregnancy rates over a five-year period.
Currently, districts teach under the state Department of Education's Health Framework guidelines, which give a broad outline for abstinence-only education. School boards, however, can vote to implement comprehensive sex education on their own.
The bill also requires parents to opt in. If parents do not sign a permission form, their children will not be required to attend the sex-education classes.
Rachel Hicks, executive director of Mississippi First, an education policy group said that because Mississippi's teen birth rate exceeds the national average by 60 percent, the bill needs to have more specifics on sex education curriculum.
"This is a starting point, and it's better than nothing, but we can't afford to make lukewarm policy," Hicks said. "When a bill is left vague, that is a huge opportunity for it to be watered down."
Hicks also cited a recent national study by the Task Force on Community Preventive Services, and analysis by experts from the federal Centers from Disease Control and Prevention concluding that sex-education programs with emphasis on contraception decrease risky sexual behavior among teens.
A similar bill last session, H.B. 234, would have required a comprehensive sex-education pilot program in five school districts with high pregnancy rates, but it died in the Senate Appropriations Committee.
Mayo said that in addition to funding, opponents rejected the requirement for the pilot program to teach abstinence-plus, and he sees H.B. 837 as a compromise to lower pregnancy rates in Mississippi.
Previous Comments
ID

155323

Comment

"Mayo said that studies comparing abstinence-only education and abstinence-plus are inconclusive on their effectiveness" I wonder what studies he was citing, because I haven't come across one study that said that Abstinence-only was effective in reducing teen pregnancy nor STD's. I think he is looking at this issue through the lens of "Mississipi Values" and not looking at reality.

Author

Renaldo Bryant

Date

2010-01-21T16:56:52-06:00
ID

155324

Comment

I agree with you, Blackwatch. We should have countered that statement, considering that the studies are not "inconclusive." Noted.

Author

DonnaLadd

Date

2010-01-21T17:15:44-06:00
ID

155326

Comment

He couldn't talk to me after the meeting, and since then Ive called twice to get more from him on that statement (exactly what reports he has read). Will update story, if I get more info.

Author

Lacey McLaughlin

Date

2010-01-21T18:22:40-06:00
ID

155332

Comment

Here are previous JFP stories that talk about the realities of "abstinence-only education" and the reports: Abstinence-Only Doesn't Work State Sued Over 'Abstinence' MS - Highest Teen Pregnancy Rate in the U.S. (forum post with links) God and Abstinence (column by Kate Royals)

Author

DonnaLadd

Date

2010-01-21T19:28:39-06:00
ID

155337

Comment

@blackwatch I am glad I'm not the only one who noticed that because I thought the data was pretty conclusive that abstinence only doesn't work glad you posted the links Donna!!

Author

multiculturegirl

Date

2010-01-22T00:50:56-06:00
ID

155339

Comment

When I was teaching, 70% of the seventh graders were sexually active. We need a more reality based approach to sex education. Kids need to know the methods of birth control and how to get them. As a parent I hope for a better policy than this in the future. Obviously, abstinance only doesn't work. Look at the teen pregnancy rates here.

Author

emeady

Date

2010-01-22T09:10:42-06:00
ID

155350

Comment

@baquan 7th try 6th I know of girls being suspended for performing oral sex in the boys bathroom at school in Jackson. Recently spoke with a nurse who works at a middle school school based clinic and they diagnosed a girl with oral HPV, my kids pediatrician's nurse says they diagnose teens all the time with STDs and they always keep pregnancy tests stocked. This stuff is real in order to stay abstinent girls are doing things I wouldn't have done in high school and they are doing it in middle school and the boys don't know better either and one of my problems with abstinence programs is they often put alot of the responsibility on the girls and give false info on condoms if any. School based clinics can not give students condoms even if they ask now I know most people would be against just handing condoms out (I'm not( but I would seriously hope that if my child didn't feel they could come to me and came to the nurse at the school to make a responsibly choice they would be able to help them. And the conversation has to start in middle school not high school by then its to late for many of these kids. It scares me, we have to do better.

Author

multiculturegirl

Date

2010-01-22T13:34:45-06:00
ID

155354

Comment

@baquan. Yes especially pregnant cheerleaders!

Author

emeady

Date

2010-01-22T14:15:57-06:00
ID

155356

Comment

@multiculturegirl...you are so right...we really do have to do better for our children.

Author

emeady

Date

2010-01-22T14:35:53-06:00
ID

155368

Comment

We need a more reality based approach to sex education. Kids need to know the methods of birth control and how to get them.-emady Agreed.

Author

Izzy

Date

2010-01-23T08:37:39-06:00