Wednesday, January 20, 2010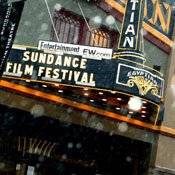 Every year I gripe about the cold that chills my entire being when I'm in Park City, Utah, for the Sundance Film Festival. Despite the snow drifts and the messy aftermath of a daily freeze-thaw cycle, and even though I am weighed down by clunky fur boots, bundles of layers and a shamelessly ugly babushka wrapped over my head, I have an extreme fondness for Sundance. It's the hospitable people of Utah, the bold and innovative filmmaking, and the overall risk taking the festival celebrates that keeps me coming back year after year.
The festival started in 1978 as an experiment by the Utah film commissioner and a small group of entrepreneurial folks who brought Robert Redford into the party planning. As the festival grew with success, it moved from Salt Lake City to the old mining town of Park City. Under the wing of the Sundance Institute, which Redford founded, the festival developed into an iconic event defining that elusive concept of "independent cinema." Sundance is the gold standard among U.S. film festivals, and without question one of the top festivals in the world. It ranks right up there with Cannes, Berlin, Venice and Toronto.
Through the years, I've seen the trappings surrounding the Sundance Film Festival transform it from an intimate experience to a behemoth snow carnival illuminated by Hollywood stars, rock 'n' roll legends and corporate conglomerates hawking their brands along Main Street. Last year's dip in the economy brought a reality check to the lavish excess of nouveau Hollywood in a snow globe. And while there is something to be said about the heady energy that celebrity sightings bring to any small town, the focus of Sundance should be on the films and the filmmakers, not on Paris Hilton hitting the slopes.
The 2010 Sundance Film Festival, taking place from Jan. 21 to Jan. 31, promises to go in new directions. Geoff Gilmore, who did an outstanding job as festival director, left last year for a job with Tribeca Enterprises in New York. John Cooper, a tried and true Sundance insider, took over Gilmore's role, and it looks like the Sundance Institute spent the past year rethinking programming.
In a telephone interview from his Los Angeles office, John Nein, a seasoned programmer for the Sundance Institute, said that "while the festival will the different this year, it will still be reminiscent of past festivals." Nein said one way the festival is different is in allowing creativity at lower budgets. The eight films featured in the NEXT category all have a voice and personal sensibility, but are made with very low or no budgets —real financial constraints—Nein said.
Selected from different parts of the country, these films highlight the work of filmmakers who "realize their financial limitations and focus on writing and character interactions."
This is a rare year, with no Mississippi-made film in any of the competition categories. Only two years ago, "Ballast," which had the ultimate Mississippi connection from its producer Nina Parikh to its production manager (and JFP publisher) Todd Stauffer, to an incredible crew and an impressive Mississippi cast, including Tarra Riggs, Micheal J. Smith Sr., JimMyron Ross and Johnny McPhail, was a festival darling.
Last year, "Prom Night in Mississippi" (a story discovered by former JFP intern Thabi Moyo, who then became an associate producer on the documentary directed by Paul Saltzman) took a hard look at hidden racial tensions concerning the first integrated prom in Charleston, Miss., facilitated by actor Morgan Freeman. What made the film extraordinary is that this black-and-white prom occurred not in the tumultuous 1960s, but in 2008.
This year's program for the Sundance Film Festival dives into experiences from Louisiana, Texas and all parts of the globe. Nein pointed out another new feature to this year's festival: the "Spotlight" program.
"This program carves out a space for films we really loved from Cannes, Venice and other festivals," Nein says.
Nein's zeal about this year's film line-up in old and new categories, and his unabashed enthusiasm for new voices spanning the globe—from Australia, Greenland, Russia, Canada, China and the United States—erased any second thoughts I had about the snow and ice.
My coverage of the 2010 Sundance Film Festival begins Jan. 27. I hope you will join me on my blog at jacksonfreepress.com where I will record my trek through a new epoch of personal filmmaking.
Read Anita's Sundance coverage on jacksonfreepress.com.