Wednesday, January 20, 2010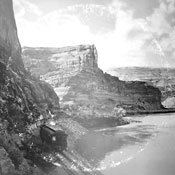 If I didn't know better, I would swear there is a secret highway that leads directly from Jackson to Portland, Ore. In the last couple of years, several Jacksonians have made an exodus to Portland—artists, musicians, writers, even a dentist I know. The lane northwest to Portland is wider than the lane heading southward, but some still choose to return to Jackson, bringing with them more creativity than when they left.
"Both (Portland and Jackson) have been really inspiring for me," singer-songwriter and former Portland resident Johnny Bertram says. He recorded his new album, "Days that Passed," at his home near North Midtown Arts Center (formerly known as One-to-One Studios) on Millsaps Avenue with Andrew Best, who also played with Bertram in one of his former side projects, Synthar. Bertram says the artists and musicians who live and work around him in the Millsaps Art District constantly inspire him.
"Days that Passed" is Bertram's first full-length release on Esperanza Plantation Records after putting out an EP, "Sing Your Song," the summer of 2009. His band on "Days that Passed," The Golden Bicycles, are Tyler Tadlock on drums; Jamie Weems on mandolin; brother Luke Bertram on guitar, bass and vocals; and Best on horn, accordion, organ and just about any other random instrument found on the album.
"We really threw the kitchen sink at it," Bertram says of the record's multiple layers of instrumentation. "We had so much fun … we actually had to cut some things out."
Songs like "Great Divide" combine the usual guitar-bass-drum ensemble with the unique flavors of banjo, accordion and horns. The result is a full, warm sound that never gets old, because there is something new to listen to each time.
Bertram did the bulk of his songwriting for "Days that Passed" during his time in Mississippi, and some familiar places pop up on the album. The Calexico-esque "Fortification" kicks off with a dramatic Spanish flair before launching into a straight-ahead folk-rock sound with an impressive mandolin lead and a rumbling drumbeat reminiscent of a drive down the Jackson street of the same name. "Rocky Springs," a bittersweet tune about holding on to the past, contains a super-catchy horn/vocal bit that catapults the song to earworm status, but it's a tune anyone would be glad to hum all day long.
Originally from Boise, Idaho, Bertram could be compared to fellow Idahoans Built to Spill; he's had the band's latest, "There is No Enemy," on heavy rotation. Just as BTS changed its lineup over the years, Bertram can be found playing with different musicians and in different genres. His current side project, Horse Trailer, brings together prolific Jacksonians Taylor Hildebrand, Bryan Ledford, Dave Hutchison, Valley Magee and Jamie Weems for high-energy acoustic rock. "It's basically each of us playing our own songs, together," he explains.
When asked if he thinks a musician can be successful while remaining in Mississippi, Bertram is positive: "I want to think it is possible. … (It depends) on how feasible it is to load up in a van and travel around, which is the same no matter where you live," he says.
Jackson got a sneak preview of "Days That Passed" before Christmas, but until March the album is only available at the band's shows and at Old House Depot. The rest of the world has to wait until March, when it will be available on iTunes and the Esperanza Plantation Web site (www.esperanzaplantation.com) for download.
Bertram will play a few Jackson shows with both of his bands in the next couple of months. Check out HorseTrailor at Hal and Mal's Red Room Jan. 30, and on Feb. 4, Bertram and The Golden Bicycles will be at Ole Tavern on George Street, along with North Carolina's American Aquarium. Find Johnny Bertram online at myspace.com/johnnybertram and johnnybertram.com, or follow him on Twitter at twitter.com/johnnybertram.
Previous Comments
ID

155308

Comment

Johnny's songs are so well-crafted. The day after a show, I'll definitely catch myself humming the songs while I work. Can't wait to pick up the new album!

Author

darren

Date

2010-01-21T11:01:14-06:00
ID

155314

Comment

I listened to Johnny's last two CDs on loop when I got them. Such a great voice, guitar playing, and melodies.

Author

melia.dicker

Date

2010-01-21T15:09:53-06:00