Tuesday, January 19, 2010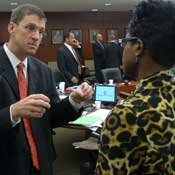 Gov. Haley Barbour's Commission on Education Structure will use funds from an undisclosed private source to pay for a study of school consolidation. At its first meeting yesterday, the Commission agreed to pay a Denver-based consulting firm $72,000 to deliver a report on the potential cost-savings and improvements to educational quality offered by merging some of the state's 152 school districts.

The consulting firm, Augenblick, Palaich & Associates, has produced studies of school finance and consolidation for state departments of education in Colorado, Pennsylvania and New Jersey, among others. The Mississippi State Legislature also enlisted the firm's help when devising the Mississippi Adequate Education Program, the funding formula that balances state funding for low-income school districts.
Commission chairman and Bancorp South CEO Aubrey Patterson revealed that the study would not cost taxpayers anything, as it was privately funded. He did not reveal the source to public, however. Barbour spokesman Dan Turner told the Jackson Free Press this morning that he did not know where the private funding would come from but said that he would look into it.
In addition to Patterson, the Commission also boasts several other members with roots in the private sector, including Barksdale Reading Institute CEO Claiborne Barksdale, Jackson businessman Socrates Garrett, Gulf Coast businessman Stephen Renfroe and Peavey Electronics Corp. President Mary Peavey.
Barbour established the Commission Dec. 21, 2009, following a call for consolidation in his budget proposal for the 2011 fiscal year. The governor has asked the commission to deliver a report on consolidation by April 1, two days before the end of the 2010 legislative session. Barbour has claimed that school-district consolidation could save the state up to $65 million, although he has not provided an explanation for how he arrived at that figure. Nevertheless, at least some Commission members seemed optimistic about district mergers.
"There's a great opportunity to find optimal structures that will enhance quality and success of our school districts, as well as providing opportunities for financial savings," Patterson said.
In a November, some members of the Commission heard a more measured assessment of consolidation. Speaking to the Legislature's task force on under-performing schools, Gail Gaines of the Southern Regional Education Board said that consolidation of districts with fewer than 1,500 students tends to save money, but those savings evaporate when merging larger districts. Members of Barbour's commission at that meeting included Barksdale, House and Senate Education Committee Chairmen Cecil Brown and Videt Carmichael, State Superintendent of Education Tom Burnham and state Higher Education Commissioner Hank Bounds.
Bounds, who served as state superintendent until this summer, also pointed out at yesterday's commission meeting that the Voting Rights Act of 1965 and federal desegregation orders still apply to Mississippi school districts, meaning that many changes require federal approval. While drafting the Children's First Act of 2009, the state Department of Education discovered that one of the state's 20-year-old laws allowing school district mergers had never received approval from the U.S. Department of Justice, Bounds added.
"Anything having to do with mergers would have to be pre-cleared with Justice," Bounds said.
Previous Comments
ID

155267

Comment

Beware of commissions that are appointed by one branch of government. They usually come to the conclusion desired by that branch (why else appoint them?). Beware of studies funded by unknown people or entities, especially studies that are ostensibly for the "public good". If they are for the public good, why shouldn't the public pay for them? And have absolute access to the process and the data? And public representation? Beware of pseudo-bipartisan commissions, like Phil Bryant's Commission for a New Mississippi, which last I looked was stocked with mostly Republican members. They may come to some meaningful conclusions, but does anyone really believe that they are free to suggest things that are not in line with Mr. Bryant's political ambitions and future? (If so, I've got some great penny stocks and a bridge you might be interested in, as soon as I get the tooth fairy to sign on the dotted line) Beware of the media when they pass along press releases and official statements as fact to the public, to those in the media who question little and investigate less (JFP excluded most of the time). Beware of politicians who want to subvert the political process; who need to change the rules of the game, or who the players are, or who must start a whole new game that must be played by their new rules. And beware of those who say more power must be given to them to solve the problems of society, or else the crisis won't be solved, and chaos and disorder will ensue. When the public does not pay for work done in its name, there is usually a hidden agenda. (sometimes not so hidden, it's just that everyone agrees not to tell the emperor about his clothes, or lack of them, a sort of mass hysteria) When the public doesn't pay up front it usually ends up paying on the back end, for many years. And it invariably ends up being much more expensive for them. And less about public good that private political ambition. How can you have a new Mississippi when things are still done the same old Mississippi way?

Author

annyimiss

Date

2010-01-19T15:47:36-06:00
ID

155270

Comment

Exactly Anonymiss, Barbour doesn't need this much power to cut budgets, and the whole "prisoners will be released" business he spouted during his SOS address was pure fear mongering. Intersting thing to look for, The Supt. of Madison Public schools is on record as saying he didn't want Canton and Madison school districts consolidated. He is also on the consolidation commission. I wonder what the "privately funded" report will say about Madison-Canton district consolidation?

Author

Renaldo Bryant

Date

2010-01-19T16:29:31-06:00
ID

155340

Comment

Update: Barbour spokesman Dan Turner says that money for the study will come from three different groups: the Barksdale Reading Institute (whose CEO, Claiborne Barksdale, is on the Commission), the Appalachian Regional Commission and the National Governors Association. Specific amounts are "still being worked out," Turner says.

Author

Ward Schaefer

Date

2010-01-22T09:46:13-06:00